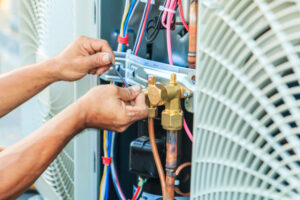 AC Maintenance in Westminster, MD, by Wenbrooke Services
With the sweltering heat of the summer months, having a functioning and efficient air conditioner becomes indispensable for every homeowner in Westminster. At Wenbrooke Services, we believe in providing top-notch AC installation services and ensuring that your cooling system remains in optimal condition year after year. Our comprehensive AC maintenance program keeps your system running smoothly, ensuring comfort throughout the season.
Trusted Westminster AC Tune-Ups
At Wenbrooke Services, we offer high-quality AC tune-up services in and around the Westminster area to ensure your comfort during the summer. Our experienced technicians know how to optimize the performance of your underperforming AC unit. We conduct thorough inspections to detect and resolve any issues affecting its performance.
Our main objective is to identify and address minor problems before they become costly repairs. We take pride in our professionalism and will clean up after ourselves, leaving your home tidy and clean. Don't let a poorly maintained AC unit ruin your summer – trust Wenbrooke Services to keep your unit in top shape.
Advantages of frequent tune-ups:
More optimal cooling
Improved air quality
Longer equipment life
Fewer repairs
The Benefits of AC Maintenance in Westminster, MD
In a place like Westminster, where temperatures can soar during summer, a well-maintained air conditioner is not a luxury but a necessity. Regular AC maintenance ensures your comfort and can translate to significant savings and peace of mind.
Benefits of regular AC maintenance by Wenbrooke Services:
Enhanced Performance: Regular check-ups ensure that all parts of your AC work efficiently, providing optimum cooling.
Cost Savings: A well-maintained AC runs more efficiently, saving on electricity bills.
Extended Lifespan: Regular maintenance prolongs the life of your air conditioner.
Fewer Repairs: Catch and fix minor issues before they become major, costly problems.
Better Air Quality: Cleaned and serviced units circulate cleaner, healthier air.
Safety: Prevent potential hazards like electrical issues or refrigerant leaks.
Peace of Mind: Stay assured that your AC won't break down during a hot summer day.
What's Included in AC Maintenance and Tune-Up by Wenbrooke Services?
Maintaining your air conditioner is about more than cleaning or replacing the filters. At Wenbrooke Services, our comprehensive tune-up includes a thorough check to ensure every component functions optimally.
Here's what our AC Maintenance entails:
Filter Replacement: Ensuring clean air circulation and optimum cooling efficiency.
Coolant Level Check: Ensuring the refrigerant level is optimal for efficient cooling.
Thermostat Calibration: Ensuring accurate temperature settings for comfort and efficiency.
Electrical Connections Check: Ensuring safe and uninterrupted operation.
Cleaning the Condensate Drain: To prevent clogs and potential water damage.
Lubrication: Reducing friction in motors and increasing efficiency.
System Controls Check: Ensuring safe and proper cycle operation.
Coil Cleaning: Ensuring effective heat absorption and efficient cooling.
Blower Components Adjustment: Ensuring optimum airflow for comfort.
Reasons to Choose Wenbrooke Services for Your AC Maintenance in Westminster
When it comes to AC Maintenance in Westminster, it's vital to choose a service provider that understands the job's technicalities and prioritizes customer satisfaction. With the array of options available, deciding which company to trust with your cooling system can be daunting.
Reasons why Wenbrooke Services is the optimal choice for homeowners who seek top-tier AC Maintenance in Westminster:
Unparalleled Expertise: With years of experience, we've handled various AC models and issues. Our technicians are regularly trained on the latest industry standards, always ensuring top-tier service.
Prompt and Reliable: We understand the discomfort of a malfunctioning AC, especially during peak summer. That's why we commit to timely services without compromising on quality.
Transparent Pricing: At Wenbrooke Services, there are no hidden charges. We provide upfront pricing, ensuring you're always aware of unexpected costs.
Customer-Centric Approach: Your comfort and satisfaction are at the heart of our services. We aim to exceed expectations, and our growing list of satisfied customers is a testament to that.
Holistic AC Maintenance: We don't just provide a superficial check. Our comprehensive AC Maintenance in Westminster covers every aspect, ensuring your system's optimal performance and longevity.
Safety First: We adhere to strict safety protocols to ensure that your AC system and home remain hazard-free after our service.
Quality Guaranteed: Every service Wenbrooke Services provides comes with a quality assurance seal. We don't just aim to fix the issue but ensure it remains fixed for a long time.
Budget-Friendly Solutions: Quality service doesn't always have to come with a hefty price tag. We offer premium AC Maintenance in Westminster at rates that ensure value for every penny spent.
Choosing Wenbrooke Services means partnering with a dedicated, experienced team that always has your best interest in mind. Make the right choice for your home's comfort and safety.
FAQs – AC Maintenance In Westminster, MD
Air conditioning maintenance is crucial for the comfort and safety of your home, especially in Westminster's fluctuating climates. Many homeowners have questions about how to best care for their cooling systems. To help you stay informed and make the best choices for your home, we've compiled a list of the most commonly asked questions regarding AC maintenance in Westminster, provided by the experts at Wenbrooke Services.
Q1. Why is regular AC maintenance in Westminster important?
A: Regular AC maintenance ensures that your system operates at peak efficiency, extends its lifespan, reduces the risk of unexpected breakdowns, and saves you money on energy bills.
Q2. How often should I schedule AC maintenance with Wenbrooke Services?
A: It's advisable to have your AC system serviced at least once a year, ideally before the start of the summer season.
Q3. What's included in an AC maintenance check-up?
A: A comprehensive maintenance check-up includes cleaning or replacing filters, checking refrigerant levels, inspecting electrical components, cleaning the condenser and evaporator coils, and ensuring all moving parts are lubricated.
Q4. Can I do any AC maintenance tasks myself?
A: While homeowners can replace filters and ensure the outdoor unit is free from debris, it's best to leave more detailed maintenance tasks to professionals to ensure the system's safety and efficiency.
Q5. Will maintenance help improve my AC's efficiency?
A: Absolutely! Regular AC maintenance in Westminster by Wenbrooke Services ensures that all system components work optimally, increasing efficiency and reducing energy costs.
Q6. My AC is fairly new. Do I still need maintenance?
A: Yes. Even newer systems benefit from annual maintenance checks to ensure they operate efficiently and address any minor issues before they escalate.
Q7. How can I tell if my AC isn't working efficiently?
A: Some signs include longer cooling times, uneven cooling throughout your home, unusual noises, and increased energy bills.
Q8. What if I've neglected AC maintenance for several years?
A: It's always possible to start. Contact Wenbrooke Services for AC maintenance in Westminster, and we'll assess your system's condition and perform any necessary tune-ups.
Q9. Are maintenance services expensive?
A: While there's a cost associated with maintenance, the savings in energy bills and potential repair costs, in the long run, more than makeup for it.
Q10. Why should I choose Wenbrooke Services for my AC maintenance needs in Westminster?
A: With years of experience, a team of dedicated professionals, and a commitment to customer satisfaction, Wenbrooke Services provides unparalleled AC maintenance in Westminster, ensuring your system remains in peak condition.
Stay informed, make the right choices for your home, and always prioritize regular AC maintenance to ensure your comfort throughout the year. If you have more questions, don't hesitate to contact the experts at Wenbrooke Services!