Highly Experienced Furnace Maintenance in Frederick
At Wenbrooke Services, we handle heat pump and furnace maintenance for the residents of Frederick, MD. Though we only opened in 2015, we've quickly become a favorite among many homeowners. This is due to our professionalism, comprehensive heating & furnace services, and warm customer care. Everything we do is with attention to detail and an eye toward each customer's unique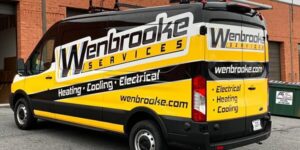 needs.
We want you to know that we:
Became accredited by the BBB in 2017
Hold a perfect A+ rating from the BBB
Are part of the Independent Electrical Contractors
Are a member of the Associated Builders and Contractors
We're active in the community, including in the Frederick and Middletown chambers of commerce. Besides that, we belong to the nationally recognized Air Conditioning Contractors of America. However, we don't specialize in any particular name brand. Whatever make or model your system is, we'll maintain it so that you get energy-efficient heating throughout the colder months.
Frederick Furnace Maintenance Experts
Furnace maintenance will leave you with more than just better heating. By eliminating all those little problems that arise in a system, it will extend the unit's lifespan. In the meantime, you may not need repairs as frequently. Another thing to consider is how many manufacturer's warranties become void if the system doesn't receive professional maintenance.
We offer a maintenance plan that provides biannual tune-ups that can be scheduled anytime. It covers a lot; members can, for example, get their generator tested and exercised twice a year as well. Using infrared technology, we can take pictures of all major connectors. We'll also check all electrical devices, replace old wiring, and more.
Basics of a furnace tune-up include:
Thermostat calibration
Fan and motor check
Airflow testing
Heat exchanger inspection
While on your property, our technicians will be courteous and respectful. They won't leave behind a mess for you to clean up. They also won't damage your house.
Priority Status for Furnace Tune-Ups
Become a member, and you'll have the advantage of priority scheduling. We'll quickly respond to your situation whether you're dealing with a gas leak or a total system breakdown. We also give double entries to members when holding customer appreciation contests.
Frederick residents can turn to Wenbrooke Services for their furnace tune-up as well as repairs and installations. You can also count on us for your next AC tune-up or service! Give us a call today, and our friendly office staff will answer any of your questions.