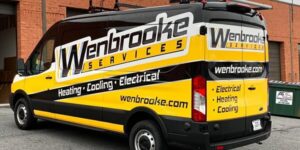 Furnace Installation in Middletown, MD, by Wenbrooke Services
The cold Middletown winters make it essential to have a reliable heating system. At Wenbrooke Services, we understand the importance of ensuring your home is warm and comfortable throughout winter with a reliable heating system. With our top-tier furnace installation services, you can be sure you're investing in your home's comfort, safety, and efficiency.
Benefits of Furnace Installation in Middletown, MD
Investing in a new furnace for your home can be a pivotal decision, especially considering the cold winters in Middletown. At Wenbrooke Services, we're dedicated to offering top-tier Furnace Installation in Middletown, ensuring your home remains a haven of warmth and comfort.
Benefits of choosing a furnace installation with us:
Enhanced Efficiency: Modern furnaces, with their advanced technology, operate at higher efficiency levels. This translates to lower energy consumption and reduced monthly energy bills.
Consistent Comfort: With a new furnace installation, you'll experience even heating throughout your home, eliminating those pesky cold spots and ensuring a uniformly cozy environment.
Safety First: Today's furnaces have various safety features, significantly reducing risks associated with older units, such as carbon monoxide leaks or potential fire hazards.
Environmentally Friendly: With a new furnace installation in Middletown, homeowners can contribute to the environment. Reduced energy consumption means fewer emissions and a smaller carbon footprint.
Increased Lifespan: Newer furnace models last longer, ensuring years of hassle-free operation and warmth for your home.
Warranty Perks: New furnace installations often come backed with extended warranties, offering peace of mind and safeguarding your investment.
Boosted Property Value: Should you decide to sell in the future, a new furnace can significantly enhance your home's market value. Potential buyers often appreciate the benefits of a recent furnace installation.
Reduced Repair Costs: A new furnace installation will likely have fewer breakdowns and require less frequent repairs than an older unit, saving you money in the long run.
Opting for a furnace installation in Middletown with Wenbrooke Services ensures a modern, efficient heating system and the peace of mind that comes from partnering with experts in the field.
Do I Need A Heater Replacement?
If your furnace is over 15 years old, frequently requires repairs, or struggles to maintain consistent temperatures, it may be time to consider a replacement. Investing in a new furnace can enhance comfort and save on repair costs and high utility bills in the long run.
Recognizing the Telltale Signs: When is it Time for a Furnace Installation in Middletown, MD?
Every furnace showcases signs of wear and tear as the years roll on. But how do you know when to bid farewell your old heating system and opt for a new Furnace Installation in Middletown, MD? At Wenbrooke Services, homeowners should know how to make timely decisions regarding their heating systems.
Here are some unmistakable signs indicating that a furnace replacement might be on the horizon:
Aging Unit: Most furnaces have a lifespan of 15 to 20 years. If yours is inching closer to or has surpassed this age range, it's time to consider a new installation.
Rising Energy Bills: An unexplained surge in monthly heating costs can indicate that your furnace is no longer operating efficiently and may be nearing its end.
Frequent Repairs: If you constantly call in technicians for repairs, the costs can quickly increase, making a new furnace more economical.
Uneven Heating: A clear sign of a failing furnace is inconsistent temperatures throughout your home. If some rooms are colder than others, it might be time for a replacement.
Strange Noises: Older furnaces tend to get noisier. If you start hearing unusual sounds like banging, popping, or rattling, it's a signal that a Furnace Installation in Middletown, MD, might be imminent.
Deteriorating Air Quality: An old furnace can push dust, dirt, and rust particles into the air, aggravating allergies and lowering indoor air quality.
Yellow Pilot Light: A furnace's pilot light should be blue. If it's yellow or another color, it might indicate combustion problems, which can be dangerous and warrant immediate attention.
Visible Rust and Cracks: If you notice rust, especially around the combustion chamber, or cracks in your furnace, these are clear indicators that a replacement is necessary.
Awareness of these signs and taking timely action can prevent prolonged discomfort during Middletown's chilly months. By choosing a professional Furnace Installation in Middletown, MD, you're investing in a warm, safe, and energy-efficient future for your home.
Why Wenbrooke Services is the Top Choice for Furnace Installation in Middletown, MD
Choosing the right service provider for your Furnace Installation in Middletown can make all the difference in ensuring comfort, safety, and long-term savings. Wenbrooke Services stands out as a leader in the heating industry, and there are several compelling reasons why homeowners trust us with their furnace installation and replacement needs.
Experienced Professionals: Our team comprises licensed and certified technicians with years of experience in the field. Their expertise ensures your Furnace Installation in Middletown is done right the first time.
Transparent Pricing: With Wenbrooke Services, no hidden fees or surprises exist. We provide transparent and upfront pricing, ensuring you understand every aspect of the installation cost.
High-Quality Equipment: We partner with leading manufacturers to offer only top-tier furnaces, ensuring efficiency, durability, and optimal performance.
Customized Solutions: Every home is unique, and so are its heating needs. Our experts assess your home's requirements and suggest solutions tailored for you.
Prompt Service: We understand the urgency of having a functional heating system, especially during the cold months. Our team ensures timely installations without compromising on quality.
Excellent Customer Reviews: Our commitment to customer satisfaction is reflected in the numerous positive testimonials and referrals we receive.
Continued Support: Our relationship with customers continues after the installation. We offer regular maintenance support and are always available for queries or concerns.
Safety First: Every Furnace Installation in Middletown is conducted with strict adherence to safety standards. Our technicians are trained to handle installations safely, ensuring peace of mind for homeowners.
Environmentally Conscious: We prioritize eco-friendly solutions and ensure our installations are energy-efficient, reducing carbon footprints and saving you on utility bills.
Financing Options: Recognizing the importance of a functioning furnace, we offer convenient financing options to make the process smooth and stress-free for our customers.
When it comes to Furnace Installation in Middletown, MD, choosing Wenbrooke Services ensures you're in capable and caring hands. Trust us to keep your home warm and comfortable for years to come.
FAQs – Furnace Installation In Middletown, MD
When considering a Furnace Installation in Middletown, homeowners often question the process, equipment, and what to expect. Wenbrooke Services is dedicated to ensuring our clients are well-informed. Here's a comprehensive list of frequently asked questions to help you navigate the furnace installation process:
Q1. What is the best time of year for Furnace Installation in Middletown?
A: While we can install furnaces throughout the year, many homeowners choose the spring or fall. These seasons are ideal as they're generally milder, and you won't rely heavily on your heating system during installation.
Q2. How long does the installation process take?
A: The duration can vary based on the type of furnace and specific home requirements. However, most installations are completed within a day.
Q3. Will I save money with a new furnace?
A: Modern furnaces are more energy-efficient, which can lead to significant savings on your monthly energy bills. Plus, a new furnace is less likely to require frequent repairs.
Q4. How often should I replace my furnace?
A: On average, a furnace lasts about 15-20 years. However, if you notice reduced efficiency, increased repairs, or other signs of wear, consider a new Furnace Installation in Middletown.
Q5. What size furnace do I need?
A: The size of the furnace you need depends on various factors, including the size of your home and its insulation level. Our team will assess your home and recommend the appropriate size for optimal efficiency and comfort.
Q6. Are there financing options available?
A: At Wenbrooke Services, we offer financing options to make the furnace installation process more manageable for our customers.
Q7. Do you offer warranties on your installations?
A: Absolutely! We stand behind the quality of our work and offer warranties on both the equipment and the installation process.
Q8. What brands or models do you recommend for Furnace Installation in Middletown?
A: We partner with leading manufacturers and offer a range of options. Our experts will provide recommendations based on your home's needs and budget.
Q9. How can I maintain my new furnace post-installation?
A: Regular maintenance is crucial for the longevity and efficiency of your furnace. We recommend annual check-ups, cleaning, and regularly changing the filters.
Q10. What if I encounter issues after the installation?
A: Wenbrooke Services is committed to customer satisfaction. If you face any issues post-installation, our team is always ready to assist and ensure your furnace operates smoothly.
For any other queries related to Furnace Installation in Middletown, MD, feel free to contact Wenbrooke Services. We're here to ensure your home stays warm and comfortable.