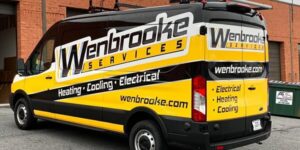 Furnace Installation & Replacement in Lovettsville, VA
As the mercury dips in Lovettsville, the residents understand the undeniable value of a reliable furnace. An efficient furnace is not just about comfort but peace of mind, safety, and energy savings. Wenbrooke HVAC Services, an industry leader, offers top-tier furnace installation in Lovettsville and replacement services. Our steadfast commitment to quality, professionalism, and customer satisfaction ensures you stay warm and cozy through every winter gust with our reliable furnace services.
Signs You Need a Furnace Replacement in Lovettsville, VA
There's a brisk chill in the Lovettsville air, and while your furnace has served you well over the years, there comes a time when a replacement becomes not just an option but a necessity. Recognizing the signs that it's time for a new furnace can save you from sudden breakdowns and increased utility bills.
Here are some indicators, highlighted by Wenbrooke HVAC Services, that signal the need for a furnace replacement:
Age of the Furnace: If your furnace is nearing or has surpassed the 15 to 20 year mark, it's time to consider a replacement.
Rising Energy Bills: A sudden or steady increase in heating costs can indicate decreasing furnace efficiency.
Frequent Repairs: If you find yourself repeatedly calling for repairs, replacing rather than repairing may be more cost-effective.
Uneven Heating: Rooms that are too cold or too hot indicate that your furnace is no longer distributing heat properly.
Unusual Noises: Loud bangs, squealing, or rattling are signs of internal problems.
Reduced Air Quality: An old furnace can lead to increased dust, allergens, or even mold in your home.
Yellow Pilot Light: This indicates an incomplete burn and could even suggest the presence of carbon monoxide.
System Strain: If your furnace struggles to start up or stay on, it's reaching the end of its functionality.
Benefits of Furnace Installation & Replacement
In Lovettsville, VA, the benefits of a furnace installation by Wenbrooke HVAC Services go beyond mere comfort. Opting for a furnace replacement or furnace installation in Lovettsville ensures consistent warmth throughout your home and enhanced energy efficiency, reducing monthly utility bills. With state-of-the-art technology and expert craftsmanship, Wenbrooke offers both durability and optimal performance.
Furthermore, a modern furnace installation can significantly improve indoor air quality, making your home healthier. When you choose Wenbrooke HVAC Services for your furnace replacement, you're not just selecting a service but investing in a promise of quality and long-lasting warmth.
Here are the advantages of opting for a furnace installation in Lovettsville or replacement:
Enhanced Efficiency: Newer furnaces can operate more efficiently, saving energy and reducing monthly bills.
Consistent Heating: Experience uniform warmth in every corner of your home without cold spots.
Improved Air Quality: Modern furnaces have superior filtration systems, reducing pollutants and allergens.
Safety: New installations minimize risks associated with older systems, such as gas leaks or carbon monoxide emissions.
Peace of Mind: A new furnace means fewer breakdowns and the assurance of a comfortable winter.
Eco-friendly: Newer models produce less CO2, contributing to a greener environment.
Higher Property Value: A new furnace can increase the resale value of your home.
We believe Compassion and care are everything.
Our fully licensed technicians work with you to find the best options and offer honest, up-front pricing. We hyper-focus on every detail of your furnace installation so it's done right the first time.
We treat your home with the utmost respect.
We give discounts to members of our armed forces.
We guarantee you'll be thrilled with our excellent service.
Here's What To Expect:
Once you've chosen your furnace, we'll set a date for furnace installation in Lovettsville. On that day, we'll arrive promptly and get right to work. After removing the old equipment, we'll connect the new furnace, test it, and explain everything to you in detail. We'll clean up after ourselves and leave you to enjoy your warm, cozy home.
Why Choose Wenbrooke Services for Furnace Installation in Lovettsville, VA
In the crisp climate of Lovettsville, VA, selecting Wenbrooke Services for your furnace installation is based on trust, expertise, and local understanding. Our team of licensed professionals brings a legacy of unparalleled service and craftsmanship to each installation. Our deep roots in Lovettsville give us an intimate knowledge of the area's unique heating needs.
Experienced Technicians: Our team is trained, licensed, and continuously updated with the latest HVAC technologies.
Transparent Pricing: No hidden fees. We provide clear estimates, ensuring you're fully informed.
Prompt Service: We respect your time, ensuring timely installations without compromising quality.
Customer-Centric Approach: Your comfort is our priority, and we tailor solutions to fit your unique needs.
High-Quality Equipment: We only install trusted, top-tier furnace brands known for durability and efficiency.
Local Understanding: Being a part of the Lovettsville community, we understand the region's heating needs.
Warranty & After-Service: Our job doesn't end with installation. We offer warranties and continued support for all our services.
Trust and Reputation: Our legacy in Lovettsville speaks for itself, backed by glowing customer reviews and referrals.
With Wenbrooke Services, you're not just investing in a furnace but in unparalleled service, lasting quality, and a warm, secure home in Lovettsville, VA.
FAQs – Furnace Installation in Lovettsville, VA
The decision to invest in a new furnace is significant; naturally, homeowners in Lovettsville, VA, have questions about the process, costs, and benefits. Wenbrooke Services, having carved a niche for itself in the HVAC industry in Lovettsville, is here to dispel doubts and provide clarity. Below, we've answered some of the most frequently asked questions about furnace installation in Lovettsville and replacement, drawing from our extensive experience and expertise.
Q1. How do I know if I need a new furnace or a repair?
A: If your furnace is over 15 years old, requires frequent repairs, or struggles to maintain consistent temperatures, it might be more economical and efficient to opt for a replacement rather than another repair.
Q2. How long does the furnace installation in Lovettsville usually take?
A: While it largely depends on the complexity of the installation, most furnace installations can be completed in a day. Our team always ensures minimal disruption to your daily routine.
Q3. Will a new furnace installation in Lovettsville reduce my energy bills?
A: Absolutely! Modern furnaces are designed with efficiency in mind, and upgrading can lead to noticeable reductions in monthly energy bills.
Q4. What brands or models does Wenbrooke Services recommend?
A: We work with a variety of top-tier furnace brands. Based on your home's specific requirements and budget, our experts will recommend the best fit for your needs.
Q5. How often will my new furnace need maintenance?
A: We recommend an annual maintenance check-up to ensure your furnace remains in optimal condition and serves you efficiently for years.
Q6. Is financing available for furnace installation and replacement?
A: Yes, Wenbrooke Services offers various financing options to make the installation process affordable and hassle-free for our clients.
Q7. What warranties or guarantees do you offer with a new furnace installation in Lovettsville?
A: All our installations come with manufacturer warranties, and additionally, Wenbrooke Services offers a guarantee on our workmanship. We believe in standing by the quality of our service.
Q8. How do I prepare my home for the furnace installation in Lovettsville?
A: Our team will guide you on any specific preparations, but typically, clearing the area around your old furnace and ensuring easy access to your home for our technicians are the primary steps.
Q9. Will a new furnace improve the air quality in my home?
A: Definitely. Newer furnaces come equipped with better filtration systems that can significantly reduce pollutants and allergens, enhancing indoor air quality.
Q10. Why should I choose Wenbrooke Services over other providers in Lovettsville?
A: With our blend of experience, local expertise, commitment to customer satisfaction, and transparent pricing, Wenbrooke Services is a leader in furnace installation and replacement in Lovettsville. Our legacy is built on trust, quality, and unparalleled service.
We hope this FAQ addresses your concerns regarding furnace installation and replacement. If you have more questions or are ready to discuss your needs, the Wenbrooke Services team in Lovettsville, VA, is always here to assist.