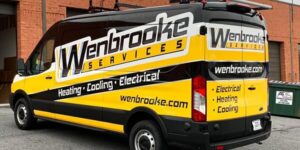 Outdoor Lighting Installation in Lovettsville, VA, by Wenbrooke Services
Illuminate your property's unique beauty and increase its security with expert outdoor lighting installation in Lovettsville. Wenbrooke Electrical Services specializes in creating enchanting outdoor atmospheres for homeowners. Let our team guide you in making the right lighting choices that align with your vision and landscape.
Types of Outdoor Lighting to Install in Lovettsville, VA
Lovettsville homes have a charm, deserving of the perfect illumination to enhance their beauty and functionality. Whether you're looking to highlight an architectural feature, create a cozy ambiance for evening gatherings, or ensure safety along pathways, outdoor lighting installation in Lovettsville by Wenbrooke Services offers a myriad of choices tailored to the unique landscapes of Virginia.
Below are some of the diverse lighting options to consider:
Pathway Lighting: Gracefully light up your garden trails, walkways, and driveways, ensuring safety and aesthetic appeal.
Accent Lighting: Showcase specific elements in your garden, whether a grand oak tree, a statue, or a water feature; accent lights add drama and focus.
Deck & Patio Lighting: Create the perfect ambiance for your outdoor lounging spaces, allowing for evening entertainment and relaxation.
Flood Lighting: For broader illumination, floodlights are perfect. They can light up large parts of your yard, ensuring security and clear visibility.
Post Lighting: Elegant and timeless, post lights can line up your driveway or be placed strategically in your garden, providing light and character.
String Lighting: For that festive, fairy-tale feel during gatherings, nothing beats the charm of string lights, especially in garden alcoves or patios.
Motion Sensor Lighting: Enhance security and convenience with lights that turn on upon sensing movement, an excellent option for entranceways or backyards.
Underwater Lighting: If you have a pool, pond, or any water feature, underwater lights can transform it into a mesmerizing nighttime spectacle.
Wall Washers: Illuminate walls and fences uniformly, creating a subtle backdrop for outdoor spaces.
Hardscape Lights: Specifically designed for illuminating built structures like pergolas, retaining walls, and outdoor kitchens.
With many options available, ensuring you get the right fit for your space is crucial. Trust in Wenbrooke Services for your outdoor lighting installation in Lovettsville, providing a harmonious blend of aesthetics, functionality, and top-tier craftsmanship.
Benefits of Outdoor Lighting Installation in Lovettsville
The elegance of a well-lit outdoor space in Lovettsville cannot be overstated. Besides providing illumination, a strategic outdoor lighting installation in Lovettsville can transform homes into majestic evening landscapes, enhancing safety, functionality, and aesthetics. Wenbrooke Services, with its expertise and local experience, brings forth many benefits through its top-rated outdoor lighting solutions.
Advantages of Outdoor Lighting Installation in Lovettsville:
Enhanced Curb Appeal: Proper lighting accentuates architectural features, landscaped gardens, and pathways, giving homes a charming nighttime aesthetic that stands out.
Increased Property Value: A well-lit exterior can significantly boost your property's value, making it a worthwhile investment for homeowners considering resale.
Safety First: Illuminating paths, stairs, and uneven terrains prevents tripping hazards and ensures safe navigation through your property.
Deter Unwanted Guests: A well-lit property can deter potential intruders, offering added security and peace of mind to homeowners.
Extended Outdoor Time: With apt lighting, patios, decks, and gardens become ideal spots for evening relaxation and entertainment.
Showcase Landscaping: Highlight the beauty of your well-tended garden, unique plants, water features, or statues, ensuring they shine even after sundown.
Energy Efficiency: With the advent of LED and solar-powered lighting options, homeowners can enjoy efficient lighting solutions that are both cost-effective and environmentally friendly.
Low Maintenance: Once installed by professionals like Wenbrooke Services, high-quality outdoor lighting systems require minimal maintenance, ensuring longevity and consistent performance.
Customization: Tailor your outdoor space to reflect your style and preferences. With many design and fixture options, you can create the ambiance you've always dreamed of.
Boost in Functionality: Transform dark corners and lesser-used areas into functional spaces, expanding the usability of your entire property.
Entrusting your outdoor lighting installation in Lovettsville to Wenbrooke Services ensures that every benefit is maximized. Illuminate your world, and let your property shine in its best light!
Why Choose Wenbrooke Services for Your Outdoor Installation in Lovettsville, VA
When it comes to outdoor installations in Lovettsville, residents deserve the very best in expertise, reliability, and craftsmanship. Wenbrooke Services, with years of experience and a solid local presence, has become a trusted name for all outdoor installation needs. But what makes Wenbrooke stand out from the crowd? Here are compelling reasons that make them the first choice for any outdoor installation in Lovettsville.
Experienced Craftsmanship: Wenbrooke's team consists of skilled professionals with years of hands-on experience, ensuring top-tier installation quality every time.
Local Understanding: With our deep ties to Lovettsville, Wenbrooke Services possesses a profound knowledge of the region's climate, aesthetic preferences, and unique requirements of its inhabitants.
Full-Service Provider: Beyond lighting, they handle various outdoor installations, making them a one-stop shop for all exterior enhancements.
State-of-the-Art Equipment: Wenbrooke employs the latest equipment and techniques, ensuring efficient, modern, and long-lasting installations.
Transparent Pricing: With Wenbrooke, there are no hidden costs. They offer transparent, competitive pricing with clear breakdowns, ensuring clients receive value for their money.
Customized Solutions: Understanding that every property is unique, they offer tailor-made solutions to match each homeowner's vision and requirements.
Prompt and Reliable: Recognizing the importance of time, Wenbrooke Services ensures the timely completion of projects without compromising on quality.
Safety First: Every installation is carried out adhering to the strictest safety guidelines, ensuring the safety of both the workers and the homeowners.
Exceptional Aftercare: Their commitment continues after installation. Wenbrooke offers robust aftercare services, ensuring any concerns or maintenance needs are addressed promptly.
Stellar Reviews: A testament to their service quality is the plethora of positive testimonials and reviews from satisfied Lovettsville residents.
Choosing Wenbrooke Services for your outdoor installation in Lovettsville is choosing peace of mind, quality, and an enhancement that stands the test of time. Elevate the beauty and functionality of your outdoors with the best in the business!
FAQs – Outdoor Lighting Installation in Lovettsville, VA
Outdoor lighting installations blend art and science, illuminating the beauty of Lovettsville homes while ensuring functionality. As the leading expert in outdoor lighting installation in Lovettsville, Wenbrooke Services often addresses homeowners' questions about the process, benefits, and choices available. Here, we've compiled a detailed list of frequently asked questions to provide clarity and insights into outdoor lighting installations.
Q1. What types of outdoor lighting installations do Wenbrooke Services offer?
A: Wenbrooke Services provides a comprehensive range of outdoor lighting solutions, including landscape lighting, pathway lights, security lights, poolside lighting, architectural accent lights, and more. We customize our offerings to suit the specific needs and aesthetics of your property.
Q2. How long does the installation process typically take?
A: The duration of the installation process depends on the size and complexity of the project. A simple pathway or garden lighting setup might be completed in a day, whereas extensive landscape lighting may take several days. We ensure timely completion without compromising on quality.
Q3. Will outdoor lighting installations increase my energy bill significantly?
A: While outdoor lighting does consume energy, modern LED solutions offered by Wenbrooke are energy-efficient, ensuring minimal impact on your monthly bill. Moreover, the added security and aesthetic appeal often outweigh the minor cost implications.
Q4. How durable are the lighting installations against Lovettsville's weather conditions?
A: Our outdoor lighting solutions are designed to withstand Lovettsville's diverse weather conditions. From rain and snow to heat, our installations are durable, ensuring longevity and minimal maintenance.
Q5. Can I customize my outdoor lighting based on themes or occasions?
A: Absolutely! At Wenbrooke Services, we pride ourselves on offering tailor-made solutions. Whether you want festive lighting, romantic themes, or mood-based illuminations, we have you covered.
Q6. Is there a warranty on the outdoor lighting installations?
A: Yes, all our outdoor lighting installations come with a warranty. The duration and terms depend on the type of installation and products chosen. We stand by the quality of our work and aim to provide complete peace of mind to our clients.
Q7. Do I need to obtain any permits for outdoor lighting installation in Lovettsville?
A: In most cases, simple outdoor lighting installations do not require permits. However, for extensive installations or those connected to public power sources, permits might be necessary. We will guide you through any needed paperwork or permissions.
Q8. How often should I maintain or check my outdoor lights?
A: While our installations are designed to be low maintenance, it's advisable to do a visual check every few months. If you notice any dimming, flickering, or non-functional lights, call us, and we'll address it promptly.
Q9. Can outdoor lighting enhance my property's security?
A: Definitely! Strategic outdoor lighting can deter potential trespassers, illuminate dark spots, and enhance security. Motion-sensor lights, in particular, are excellent additions to entry points and secluded areas.
Q10. How do I schedule a consultation with Wenbrooke Services for outdoor lighting?
A: Simply reach out to us via our contact details provided. Our team will be delighted to schedule a time convenient for you, understand your needs, and provide the best solutions for your outdoor lighting aspirations.
Embarking on an outdoor lighting installation journey in Lovettsville with Wenbrooke Services guarantees expert insights, quality workmanship, and results that brighten every facet of your home's exterior.