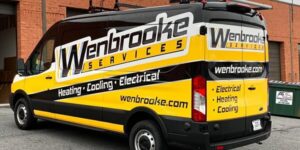 Commercial Electrical Services in Lovettsville, VA
In the dynamic business world, having reliable electrical systems is not just a convenience but a necessity. Wenbrooke Services understands electricity's critical role in your operations, which is why we offer comprehensive commercial electrical services in Lovettsville. Whether you manage a retail store, an industrial facility, or an office building, our expert team can handle all your electrical needs, ensuring minimal downtime and enhanced efficiency at your premises.
Commercial Electrical Services in Lovettsville, VA
Navigating the electrical demands of modern businesses can be a complex task. Wenbrooke Services stands at the forefront of providing comprehensive commercial electrical services in Lovettsville, ensuring local businesses operate efficiently and safely. Our seasoned electricians are adept at handling various electrical tasks, from routine maintenance to emergency repairs, effectively catering to the bespoke needs of your commercial space. With a commitment to excellence and a deep understanding of commercial requirements, we're your go-to experts for reliable electrical solutions.
Commercial Electrical Services:
System Installations: Comprehensive electrical installations, including power systems, lighting, security systems, and control systems. We ensure every component is optimally installed for reliable performance.
Commercial Wiring and Rewiring: Whether setting up a new space or updating an existing one, we provide thorough wiring and rewiring services that adhere to industry standards, guaranteeing safety and efficiency.
Electrical Repairs: We diagnose and repair various electrical issues, preventing potential hazards and disruptions that can affect your business operations.
Routine Maintenance Services: Regular inspections and maintenance are essential for preventing unexpected failures. Our maintenance services keep your electrical systems running smoothly and efficiently.
Emergency Electrical Services: Immediate response for electrical emergencies, minimizing downtime and protecting your property and personnel from electrical hazards.
Code Compliance and Inspections: Ensuring your business stays aligned with local and national electrical codes through detailed inspections and upgrades.
Energy-Efficient Electrical Upgrades: Reduce energy costs and environmental impact by transitioning to greener operations with energy-efficient lighting and power systems.
Surge Protection: With advanced surge protection solutions, protect sensitive electronics and equipment from power surges and spikes.
Backup and Emergency Power Solutions: Install and maintain backup generators and uninterruptible power supplies (UPS), ensuring your business remains operational during power outages.
Security and Safety System Installation: Enhance your commercial space's safety by installing security systems, fire alarms, and emergency lighting systems.
Data and Communication Line Installation: Full-service installation and repair of data and communication lines, supporting your business's connectivity and communication infrastructure.
Lighting Design and Installation: Custom lighting solutions that cater to the aesthetic and functional requirements of your commercial space, including task lighting, ambient lighting, and decorative lighting.
By choosing Wenbrooke Services for your commercial electrical services in Lovettsville, you entrust your business's electrical needs to professionals dedicated to delivering quality, reliability, and safety in every project undertaken. We understand the nuances and demands of commercial operations, offering unparalleled service to support the growth and efficiency of your business.
Emergency Electrical Services For Commercial Properties
Electrical emergencies can strike at any time, often without warning, posing a threat to your business operations and the safety of your employees and customers. Understanding the urgency and potential hazards associated with such situations, Wenbrooke Services provides rapid response emergency electrical services for commercial properties in Lovettsville, VA. Our licensed electricians are available around the clock with the latest tools and knowledge to address critical electrical issues, minimizing downtime and safeguarding your property from further risk.
Reasons to Choose Wenbrooke Services For Commercial Electrical Services in Lovettsville
The importance of expert commercial electrical services in Lovettsville cannot be overstated regarding facilitating a seamless, efficient business operation. Your choice of electrical service provider impacts not just the functionality of your enterprise but its safety and compliance standards. Wenbrooke Services emerges as a preferred partner for local businesses, offering a blend of technical excellence, customer-centric solutions, and a proactive approach.
Why Wenbrooke Services should be your first call for all commercial electrical needs:
Experienced Professionals: Wenbrooke Services boasts a team of highly skilled electricians, each with extensive training and experience in handling the diverse challenges of commercial electrical systems.
Comprehensive Solutions: From installation and maintenance to emergency repairs and inspections, we offer a full spectrum of electrical services, negating the need to juggle multiple contractors.
Rapid Response: Understanding that time is of the essence, especially in commercial settings, we pride ourselves on quick response times, ensuring your electrical issues are addressed promptly minimizing potential disruptions to your operations.
Customized Strategies: Every business is unique, and so are its electrical needs. We specialize in developing and implementing customized electrical solutions tailored to your commercial space's specific requirements and constraints.
Regulatory Compliance: Keeping abreast of local and national electrical codes, we ensure your facility remains compliant, helping you avoid legal issues and potential fines.
Safety Commitment: We place your company's safety at the forefront, employing rigorous standards and proactive measures to prevent electrical hazards and safeguard your property, employees, and customers.
Transparent Pricing: With Wenbrooke Services, no hidden fees or surprises exist. We maintain transparent pricing and clear communication throughout our service delivery, ensuring you understand and approve of the work.
Cutting-Edge Technology: We utilize the latest technologies and tools to enhance the efficiency and reliability of your electrical systems, future-proofing your business operations.
Energy Efficiency Expertise: Our specialists can help transition your business towards sustainable practices, reducing energy consumption, enhancing your brand's image, and saving on utility bills.
Customer Satisfaction Focus: Our job is complete once you're delighted. We prioritize customer service, receiving feedback, and adjusting our services to meet and exceed your expectations.
Local Understanding: With our comprehensive knowledge of Lovettsville's commercial landscape, we are well-equipped to address the specific needs of local businesses. This advantage positions us as a more suitable choice than distant companies.
Reliable After-Service Support: Our relationship with clients doesn't end after the service is done. We offer dedicated after-service support for any queries or follow-up requirements, standing by the quality of our work.
By aligning with Wenbrooke Services for your commercial electrical services in Lovettsville, you're opting for a partnership that values your business's efficiency, safety, and ongoing success. We bring the assurance of top-tier workmanship, adherence to strict safety protocols, and a dedication to keeping your business powered and productive.
FAQs – Commercial Electrical Services in Lovettsville, VA
Navigating the complexities of commercial electrical services in Lovettsville can often raise numerous questions, especially in ensuring the utmost efficiency, safety, and compliance within your business premises. Understanding this, Wenbrooke Services provides clarity and insights into our comprehensive service range. Below, we've compiled a detailed list of frequently asked questions to guide local businesses in making informed decisions regarding their electrical needs.
Q1. What services are included in commercial electrical services?
A: Wenbrooke Services offers a comprehensive suite of commercial electrical solutions, including but not limited to system installations and upgrades, electrical maintenance, emergency repairs, system inspections and compliance assessments, lighting solutions, and energy efficiency consulting.
Q2. How often should my business have an electrical inspection?
A: It's generally recommended that commercial properties undergo professional electrical inspections annually to ensure all components are in optimal condition and compliance with current safety standards. However, the frequency can vary based on the property's age, usage, and specific equipment demands.
Q3. Can Wenbrooke Services assist in making my business more energy-efficient?
A: Absolutely. We specialize in energy efficiency audits and can recommend and implement strategies to reduce your energy consumption. This service can include modernizing lighting systems, optimizing power usage, and introducing smart components for better energy management.
Q4. What are the signs that my commercial space needs electrical upgrades?
A: Frequent electrical issues such as circuit breakers tripping, persistent electrical surges, overloaded outlets, or outdated wiring are common indicators that your system requires professional attention and potential upgrades.
Q5. Does Wenbrooke Services handle emergency electrical situations?
A: We provide emergency electrical services in Lovettsville, understanding that specific issues can't wait. Our team is equipped and ready to respond promptly to emergencies to mitigate risks and restore functionality.
Q6. Are your electricians licensed to operate in Lovettsville?
A: Absolutely. All our electricians are licensed professionals, having undergone rigorous training and regular upskilling to stay abreast of industry advancements and local regulations.
Q7. Can you assist with the installation of high-powered equipment?
A: We certainly can. Our team has extensive experience setting up heavy-duty machinery, ensuring safe, efficient, and compliant installations. We also guide the maintenance of optimal electrical loads for such equipment.
Q8. How do you charge for your services? Is it hourly or a flat rate?
A: Our pricing structure is transparent and competitive, tailored to the specific service. Depending on the project's scope, we may charge a flat rate for defined tasks or an hourly rate for more extensive, ongoing services. We provide detailed estimates before commencing work.
Q9. Can Wenbrooke Services handle the electrical needs of large-scale commercial projects?
A: Yes, our team is adept at managing large-scale commercial projects and is equipped with the resources, expertise, and manpower to undertake extensive electrical installations, renovations, and maintenance contracts.
Q10. What makes Wenbrooke Services stand out from other electrical service providers?
A: Our commitment to excellence, wide range of services, rapid response, and customer-first approach set us apart. We prioritize safety and quality, ensuring our clients receive the most comprehensive commercial electrical services in Lovettsville.
Understanding your commercial electrical needs and responsibilities is crucial in maintaining a safe, efficient, and compliant business environment. Wenbrooke Services is here to address all your concerns, ensuring your electrical systems are in impeccable condition, offering you peace of mind and the ability to focus on what you do best — running your business.