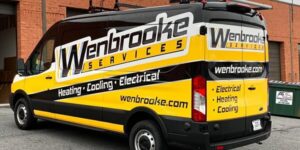 Water Heater Installation in Leesburg, VA
Get the best water heater installation in Leesburg, VA, with Wenbrooke Plumbing Services. Our experienced plumbers are available around the clock for all your water heater installation needs. In the heart of Leesburg, VA, the comfort of a warm shower or the convenience of quickly filling a cooking pot can be attributed to a reliable water heater. Wenbrooke Plumbing Services recognizes these appliances' pivotal role in our daily lives and is proud to offer top-tier water heater installation services. With expertise, dedication, and state-of-the-art equipment, we ensure that every Leesburg resident enjoys uninterrupted hot water.
Signs Your Water Heater Needs Replacement
While water heaters are durable, they aren't immune to wear and tear. Over time, sure signs can indicate that your unit is nearing the end of its lifespan. Recognizing these signs can save you from unexpected disruptions and potentially costly emergency replacements.
Age of the Unit: Most traditional water heaters last 8-12 years. If yours is approaching or has surpassed this range, it might be time for a replacement.
Rusty Water: Discolored water, especially a rusty hue, can indicate internal tank corrosion.
Frequent Repairs: If you find yourself frequently calling for repairs, replacing the unit might be more cost-effective.
Noise Issues: Rumbling, cracking, or popping sounds can suggest sediment buildup or imminent failure.
Water Around the Heater: Leaks or pooling water near the unit clearly indicate a problem.
Inconsistent Temperatures: Fluctuating or lukewarm water temperatures can indicate a failing heating element or thermostat.
Increased Energy Bills: A significant rise in your energy bills might mean the unit is working harder and less efficiently.
Which Water Heater is Right for You?
Choosing the right water heater hinges on your household's needs and preferences. Factor the size of your home, the number of occupants, and your hot water consumption patterns. While traditional tank water heaters are famous for their simplicity and lower upfront costs, tankless models offer on-demand hot water and energy savings. Consulting with a professional from Wenbrooke Plumbing Services can provide insights and recommendations tailored to your unique situation.
Benefits of Water Heater Installation & Replacement in Leesburg, VA
Upgrading or replacing your water heater is more than just a home improvement task; it's an investment in comfort, efficiency, and peace of mind. In Leesburg, VA, where the demand for consistent hot water is paramount, Wenbrooke Plumbing Services offers top-tier water heater replacement and installation services.
Here are the manifold benefits of entrusting this crucial task to our seasoned professionals:
Consistent Hot Water Supply: A new water heater ensures you always have hot water in the middle of a shower or while doing dishes.
Energy Efficiency: Modern water heaters are designed to operate more efficiently, reducing energy consumption and, in turn, lowering utility bills.
Safety Enhancements: Newer models have advanced safety features, minimizing overheating, leaks, or explosion risks.
Longevity: A freshly installed water heater, especially when done by experts, tends to have a longer operational life, ensuring you get the most out of your investment.
Space Optimization: Contemporary water heaters, particularly tankless models, are compact and can free up space in your utility area.
Eco-friendly Operation: Many of the latest water heaters are environmentally friendly, producing fewer emissions and having a smaller carbon footprint.
Reduced Repair Costs: With a new installation, you can expect fewer breakdowns and repairs, saving you money and hassle in the long run.
Improved Water Quality: Over time, old water heaters can accumulate rust and sediment. A new installation ensures cleaner, more transparent water.
Home Value Boost: A new water heater can enhance the resale value of your home, making it more appealing to potential buyers.
Customized Solutions: Wenbrooke Plumbing Services assesses your needs and recommends a water heater tailored to your household's requirements.
With these benefits in mind, it's clear that a water heater replacement or installation is a wise choice for homeowners in Leesburg, VA. And with Wenbrooke Plumbing Services at the helm, you're guaranteed a seamless, efficient, and satisfactory experience.
Reasons to Choose Wenbrooke Plumbing Services for Your Water Heater Installation in Leesburg, VA
When it comes to ensuring a steady, reliable hot water supply in your Leesburg home, choosing a service provider is paramount. Wenbrooke Plumbing Services stands out as the premier choice for water heater installation in Leesburg, and here's why our expertise and commitment to excellence make us the preferred choice for Leesburg residents:
Years of Expertise: With a rich history in the plumbing industry, our team brings a wealth of knowledge and experience to every water heater installation in Leesburg.
Quality Assurance: We prioritize using top-tier water heater brands and products, ensuring longevity and optimal performance.
Transparent Pricing: With Wenbrooke, no hidden fees or surprise costs exist. We believe in transparent, upfront pricing tailored to your specific needs.
Prompt and Reliable Service: We understand the inconvenience of waiting. Our team is committed to timely water heater installation in Leesburg without compromising on quality.
Customer Satisfaction: Our job is only done once you're delighted. We pride ourselves on our customer-centric approach and consistently high service ratings.
Safety First: Our technicians adhere to all safety protocols, ensuring a safe and secure installation process.
Local Expertise: As a local business, we understand the unique needs and preferences of Leesburg residents, ensuring we tailor our solutions accordingly.
Comprehensive Warranty: Our installations come backed with robust warranties, giving you peace of mind and assurance in our services.
24/7 Support: Water heater issues can arise anytime. We offer round-the-clock support to address any post-installation queries or concerns.
Eco-friendly Solutions: We stay updated with the latest water heater technology, offering eco-friendly and energy-efficient solutions that benefit your wallet and the environment.
In a nutshell, Wenbrooke Plumbing Services is not just a service provider; we're your partners in ensuring your home's comfort and convenience. Trust us for your water heater installation in Leesburg, VA, and experience the Wenbrooke difference.
FAQs – Water Heater Installation In Leesburg, VA
Water heater installation is a crucial task that ensures the uninterrupted flow of warm water in your home. Given its significance, it's natural to have questions about the process, especially if you're considering Wenbrooke Plumbing Services for the job. To assist you, we've compiled a list of frequently asked questions and their answers to provide clarity on our water heater installation in Leesburg, VA.
Q1: How long does a typical water heater installation in Leesburg take?
A: While the exact time can vary based on the specific model and installation complexities, most installations are completed within 2-4 hours.
Q2: Can I choose between a tankless and a traditional tank water heater?
A: Absolutely! Wenbrooke Plumbing Services offers both options, and our experts can guide you on the best choice based on your household's needs.
Q3: How often should I replace my water heater?
A: Most traditional water heaters have 8-12 years of life. However, with regular maintenance, some units can last longer. It's advisable to consult with a professional as the team approaches this age range.
Q4: Are there energy-efficient water heater options available?
A: Yes, we offer a range of energy-efficient models that can help reduce your energy consumption and, consequently, your utility bills.
Q5: What size water heater do I need for my home?
A: The ideal size depends on your household's water consumption. Our team can assess your needs and recommend the perfect size for optimal efficiency.
Q6: Is there a warranty on the water heater installation in Leesburg?
A: Yes, Wenbrooke Plumbing Services provides a warranty on our installation work, and most water heater units come with a manufacturer's warranty.
Q7: Can I install the water heater myself?
A: While some homeowners might be tempted to undertake a DIY installation, we recommend professional installation to ensure the safety, efficiency, and longevity of the unit.
Q8: How do I maintain my new water heater post-installation?
A: Regular maintenance, such as flushing the tank annually and checking for signs of wear or corrosion, can extend the life of your water heater. Our team can provide detailed maintenance tips specific to your model.
Q9: What brands of water heaters do you install?
A: We work with various top-tier brands to ensure quality and reliability. Our team can discuss the available options with you during the consultation.
Q10: Do you offer emergency water heater installation in Leesburg?
A: Yes, we understand the urgency that can arise from a malfunctioning water heater, and we offer emergency installation services to address such needs.
We hope this FAQ section addresses your primary concerns. If you have further questions or need more information, please get in touch with Wenbrooke Plumbing Services in Leesburg, VA. We're here to assist you every step of the way.