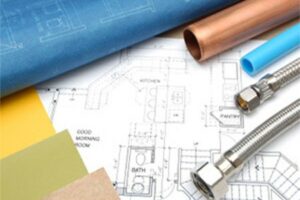 Plumbing Fixture Replacement In Leesburg, VA
Need reliable plumbing fixture replacement in Leesburg, VA? Look no further than the experienced team at Wenbrooke Plumbing Services. Our plumbers get the job done quickly and efficiently. We offer competitive prices and excellent service for all your plumbing.
At Wenbrooke Plumbing Services, we pride ourselves on delivering top-notch plumbing fixture replacement in Leesburg, VA. Our dedicated team is ready to step in when your fixtures show signs of wear or malfunction or need an upgrade. Trust us to transform your plumbing systems efficiently, precisely, and professionally. Let's give your space the functional and aesthetic boost it deserves!

How Often Should Plumbing Fixtures Be Replaced?
In Leesburg, VA, we recommend that plumbing fixtures be assessed every few years for wear and tear. Certain fixtures need replacement sooner than others, depending on the usage and water quality. For instance, faucets in high-use areas, as observed by our team, tend to wear out faster. Regular inspections by professionals like ours can ensure that replacements are done timely, preventing potential water damage or increased utility bills.
Common Causes of Plumbing Fixture Replacement in Leesburg
At Wenbrooke Plumbing Services, we've observed that several factors can lead to the need for plumbing fixture replacement in Leesburg, VA. Over the years, our team has identified various causes, which often result in homeowners seeking our expertise.
Here's a list of common reasons, as noted by our professionals:
Wear and Tear: Fixtures are naturally subjected to wear and tear over time. This deterioration is often noticed by homeowners when leaks or malfunctions begin to occur.
Mineral Build-up: In areas where hard water is prevalent, mineral deposits can accumulate, leading to blockages or reduced water flow, as has been seen by our team.
Outdated Designs: Some fixtures are replaced not due to malfunction but because they are outdated. Newer, more efficient models are often preferred, as suggested by many of our clients.
Frequent Repairs: When a fixture requires constant repairs, as reported, it might be more cost-effective to replace it entirely.
Water Damage: Sometimes, unnoticed leaks can cause water damage. When homeowners discover the damage, a replacement becomes necessary.
Increased Utility Bills: An unexpected rise in water bills can sometimes be attributed to faulty fixtures, as has been deduced by our experts on several occasions.
Understanding these causes can help homeowners decide when and why to get plumbing fixture replacement in Leesburg. Our team at Wenbrooke Plumbing Services is always here to provide guidance and expert solutions.
Benefits of Plumbing Fixture Replacement in Leesburg
At Wenbrooke Plumbing Services, updating your plumbing fixtures is more than a cosmetic change. It's an investment in your home's efficiency, safety, and value. Over the years, we've seen firsthand the numerous benefits homeowners in Leesburg, VA, reap from timely plumbing fixture replacement in Leesburg.
Here are some of the top advantages we've observed:
Improved Efficiency: New fixtures often operate more efficiently, reducing water waste and saving you money on utility bills.
Enhanced Home Value: Modern, updated fixtures can significantly boost the resale value of your home, making it more appealing to potential buyers.
Reduced Risk of Leaks: By replacing older fixtures, you minimize the risk of unexpected leaks, which can lead to costly water damage.
Better Water Pressure: Upgraded fixtures can improve water pressure, enhancing your daily washing and bathing experience.
Modern Aesthetics: New fixtures can transform the look of your bathroom or kitchen, giving it a contemporary and stylish appearance.
Eco-friendly Options: Many of the latest fixtures are designed to be environmentally friendly, conserving water and reducing your carbon footprint.
Fewer Repairs: New installations typically mean fewer breakdowns and repairs, saving you time and hassle in the long run.
When you choose to upgrade with Wenbrooke Plumbing Services, you're not just getting a new fixture; you're investing in your home's future comfort and functionality. We're here to ensure you enjoy all the benefits of modern plumbing technology.
Why Choose Wenbrooke Services for Plumbing Fixture Replacement in Leesburg?
At Wenbrooke Plumbing Services, we pride ourselves on being Leesburg's trusted choice for plumbing fixture replacement in Leesburg. Our commitment to excellence and our deep understanding of the community's needs sets us apart.
When you're considering a plumbing upgrade, here are compelling reasons to make us your first call:
Experienced Professionals: Our team is licensed and trained professionals who bring years of experience to every project.
Quality Craftsmanship: We ensure every installation is done precisely, ensuring longevity and optimal performance.
Transparent Pricing: There are no hidden fees with us. We provide upfront pricing, ensuring you know exactly what to expect.
Prompt Service: We value your time. Our team is always punctual, ensuring projects are completed promptly without compromising quality.
Local Expertise: We understand Leesburg Homes' specific plumbing needs and challenges as a local business.
Top-of-the-Line Products: We only use the best products and fixtures, ensuring durability and efficiency.
Exceptional Customer Service: Our customers are our top priority. We go above and beyond to ensure satisfaction at every process step.
Warranty Assurance: We stand by our work, offering warranties on our services for added peace of mind.
Choosing Wenbrooke Plumbing Services means investing in quality, reliability, and a team that genuinely cares about your home's plumbing health. Let us bring our expertise to your next project.
FAQs – Plumbing Fixture Replacements In Leesburg, VA
At Wenbrooke Plumbing Services, we understand that replacing plumbing fixtures can come with many questions. We're here to provide clarity and ensure homeowners in Leesburg, VA, have all the information they need to make informed decisions. Below are some frequently asked questions we encounter, along with our expert answers.
Q1: How often should I replace my plumbing fixtures?
A: The lifespan of plumbing fixtures varies. Faucets typically last 10-15 years, while toilets can last up to 50 years. However, it might be time for a replacement if you notice consistent issues or outdated designs.
Q2: Can I replace a fixture alone or hire a professional?
A: While some homeowners opt for DIY, we recommend hiring a professional to ensure proper installation, prevent potential leaks, and guarantee the fixture's longevity.
Q3: How do I know if my fixture needs replacement or repair?
A: Persistent issues, visible rust, or outdated designs are indicators for replacement. However, minor issues like a dripping faucet might need repair.
Q4: What brands do you recommend for Plumbing fixture replacement in Leesburg?
A: We work with a variety of top-quality brands. Depending on your needs and budget, we'll recommend the best fit for your home.
Q5: How long does a typical plumbing fixture replacement in Leesburg take?
A: Most Plumbing fixture replacement in Leesburg take a few hours, but the duration can vary based on the fixture type and any unforeseen challenges.
Q6: Will replacing my fixtures improve water efficiency?
A: Absolutely! Modern fixtures are more water-efficient, which can reduce your water bill and environmental footprint.
Q7: Do you offer warranties on your replacement services?
A: Yes, we stand by our work and offer warranties on our services for added peace of mind.
Don't hesitate to contact our team for any other questions or to schedule a consultation. We're here to help!