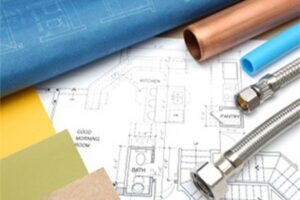 Wenbrooke Plumbing Services in Leesburg, VA
Tucked away in the historic heart of Virginia, Leesburg thrives on a blend of modern living and traditional architecture. With this beautiful combination, however, comes the inevitable requirement to maintain the plumbing systems of new and historic homes.
Wenbrooke Services, with its roots deeply embedded in the Leesburg community, is proud to offer top-notch plumbing solutions to its residents. We are your premier plumbing partner in Leesburg, combining decades of experience, cutting-edge techniques, and an unwavering commitment to customer satisfaction.
Wenbrooke Residential Plumbing Services in Leesburg:
Plumbing Emergencies by Wenbrooke Plumbing Services in Leesburg
The unpredictability of plumbing emergencies can lead to inconveniences, potential property damage, and massive repair bills if addressed after some time. Burst pipes in the winter chill or an unexpected sewage backup can disrupt your peace of mind. But with Westbrook Plumbing Services at your beck and call, there's no reason to panic.
Our dedicated emergency response team is available round-the-clock, ensuring expert assistance is just a call away. With rapid diagnostics and practical solutions, we strive to mitigate damages and restore normalcy at the earliest.
Plumbing Repairs in Leesburg, VA, with Wenbrooke Plumbing Services
The ebb and flow of daily life often revolve around our plumbing systems, from the morning shower to the nightly dishwasher run. At Wenbrooke Plumbing Services in Leesburg, we understand plumbing repairs' intricate details and diverse challenges.
Our trained professionals bring:
Leak Detection and Repair: We tackle them all, from hidden wall leaks to visible faucet drips.
Pipe Replacement: Upgrade your old and worn-out pipes to ensure a smooth and efficient plumbing system.
Toilet Repairs: Whether it's a continuous run or an unexpected clog, we've got you covered.
Drain Cleaning: Say goodbye to stubborn blockages and welcome smooth drain flow.
Water Heater Repairs: Ensure a continuous hot water supply with our expert repair services.
Sump Pump Repairs: Keep your basement dry and safe from potential flooding.
Garbage Disposal Fixes: Ensure your kitchen waste is managed efficiently and safely.
Sewer Line Repairs: Address root intrusions, blockages, or wear-and-tear issues with expert solutions.
Fixture Repairs and Replacements: We ensure all fixtures function optimally, from sinks to showers.
Backflow Prevention: Protect your water supply from contamination with regular checks and repairs.
When to Call for a Professional from Wenbrooke Plumbing Services in Leesburg, VA
Even minor plumbing issues can escalate if left unchecked. Know when to pick up the phone and call the experts:
Persistent Drips: A dripping faucet can waste more water than you think.
Slow Drains: This often indicates blockages that can lead to bigger problems.
Discolored Water: Brown or cloudy water can indicate corrosion or other pipe issues.
Low Water Pressure: Often a sign of hidden leaks or blockages.
Gurgling Sounds: These noises indicate drainage or pipe problems.
Water Stains: Signs on walls or ceilings often point to hidden leaks.
Frequent Clogs: Regular blockages can hint at structural problems with your plumbing system.
Foul Odors: Persistent sewage-like smells can indicate a serious issue with your sewer line.
Visible Mold or Mildew: Often caused by unnoticed water leaks.
Water Heater Inconsistencies: Fluctuating temperatures might mean it's time for a check-up or repair.
Wenbrooke Plumbing Services remains Leesburg's reliable choice for all these issues and more. Trust in our expertise, and we promise to deliver unparalleled service every single time.
Wenbrooke Plumbing Services in Leesburg
The demand for steadfast and reliable plumbing services in Leesburg is perpetual in the quaint town of Leesburg, with its unique blend of historic charm and contemporary life. When residents think of a plumbing service they can trust, they feel about Wenbrooke Plumbing Services in Leesburg.
Here's why, when plumbing woes hit home, the wise choice is invariably Wenbrooke:
Established Expertise: With decades under our belt, we bring a rich tapestry of experience to every job, ensuring your plumbing issues are addressed with unmatched proficiency.
Round-the-clock Availability: Plumbing issues don't work 9 to 5 – neither do we. Our team is available 24/7, ensuring you're never stranded in an emergency.
Transparent Pricing: No hidden costs, no surprise bills. We believe in transparent, upfront pricing, so you know exactly what you're getting into.
Latest Techniques and Tools: Staying updated is key. Our professionals are trained in the most recent plumbing techniques and are equipped with cutting-edge tools to ensure efficient and lasting solutions.
Local Presence: Being rooted in Leesburg means we understand the community's unique plumbing challenges and needs, enabling us to provide tailored solutions.
Safety First: Our team adheres to stringent safety protocols, ensuring that every job, big or small, is carried out with the utmost care for your home and family.
Environmental Consciousness: We recognize the importance of sustainable solutions. Our Plumbing services in Leesburg are designed to be eco-friendly, helping you reduce your carbon footprint.
Stellar Reputation: Over the years, we've built a reputation based on trust, integrity, and excellence. Our satisfied customers and their testimonials stand as a testament to our commitment.
Personalized Solutions: We don't believe in one-size-fits-all. Every home, every issue is unique, and we approach each job with a tailored solution that fits just right.
Comprehensive Service Range: From minor repairs to central installations, our Plumbing services in Leesburg cover plumbing needs, ensuring you don't have to look elsewhere.
Customer-Centric Approach: It's not just about fixing pipes for us. It's about building relationships. Our team goes the extra mile to ensure your comfort and satisfaction.
Entrusting your home's plumbing to someone is a big decision. With Wenbrooke Plumbing Services in Leesburg, you're not just getting a service but making a partnership. A partnership based on trust, expertise, and an unwavering commitment to excellence. For all things plumbing in Leesburg, make the right choice: Choose Wenbrooke.