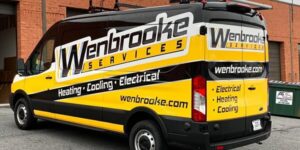 Furnace Repair in Leesburg, VA – Wenbrooke Services
For reliable furnace repair in Leesburg, VA, Wenbrooke Services comes through every time. We specialize in rapid, accurate diagnosis and repair of all types of HVAC systems. Is your furnace not heating correctly or making unusual noises?
Welcome to Wenbrooke Heating & Furnace Services, your trusted furnace repair provider in Leesburg, VA. Our team of certified technicians ensures your home remains warm and comfortable, diagnosing and repairing your furnace with skill and precision.
Our company is known for:
Being fully licensed, bonded, and insured
Providing personalized services
Operating with integrity
Having flexible appointment availability
Common Causes of Furnace Repairs
In the chilly winters of Leesburg, VA, the smooth operation of your furnace is critical to maintaining a warm and cozy environment in your home. However, like any other piece of equipment, furnaces can face various issues for many reasons. Recognizing the common causes of furnace repairs helps in the timely detection and resolution of these problems.
Here are some of the frequent causes that might necessitate a furnace repair:
Faulty Thermostat: A malfunctioning thermostat can create heating problems, including temperature irregularities and trouble turning on the furnace.
Clogged Filters: Over time, your furnace filters can become clogged with dust and debris, restricting airflow and causing your furnace to work harder, which could lead to other problems.
Mechanical Wear and Tear: As your furnace ages, its mechanical parts may wear down, causing airflow problems, overheating, or even complete breakdowns.
Ignition Control Issues: If your furnace has problems starting or staying on, it could be due to ignition control or pilot light issues.
Gas Leaks: This severe issue can cause your furnace to stop working and pose safety risks.
Inadequate Maintenance: Without regular maintenance, minor issues can evolve into significant problems that can cause your furnace to malfunction or fail prematurely.
Blower Motor Failure: The motor is critical for circulating warm air throughout your home. A failing blower motor can result in poor heating performance.
Cracked Heat Exchanger: Over time, the heat exchanger can crack, affecting the efficiency of your furnace and potentially leading to a carbon monoxide leak.
When faced with any of these issues, it's essential to seek professional help promptly to prevent more significant problems and ensure your home remains warm and comfortable.
Benefits of Furnace Repair In Leesburg, VA
At Wenbrooke Services in Leesburg, VA, we recognize the importance of a fully functional furnace in maintaining a comfortable home, especially during the colder months. Ensuring timely furnace repair in Leesburg not only restores the warmth in your home but also brings many additional benefits.
Let's delve into some key advantages of opting for our expert furnace repair in Leesburg:
Restored Comfort: A properly functioning furnace ensures your home is uniformly heated, providing you with the comfort you deserve during chilly winters.
Improved Efficiency: Our repairs aim to restore your furnace to its optimal condition, enhancing its efficiency and potentially reducing energy bills.
Extended Lifespan: Timely repairs can prevent minor issues from escalating into major ones, extending the life of your furnace and delaying costly replacement.
Enhanced Safety: A well-maintained furnace is a safe furnace. Our repairs ensure your system is not posing any safety risks, such as carbon monoxide leaks.
Better Air Quality: By fixing issues like clogged filters and poor ventilation, we help improve the indoor air quality of your home.
Preventive Care: Our repairs often identify potential issues that could turn into significant problems, allowing us to rectify them proactively.
Peace of Mind: Knowing that your furnace is in the hands of skilled professionals gives you peace of mind, ensuring a warm, comfortable home.
Wenbrooke Services' goal is to provide you with top-notch furnace repair in Leesburg that not only fix your immediate concerns but also bring long-term benefits.
Why Choose Wenbrooke Services for Your Furnace Repair in Leesburg, VA?
Choosing the right service provider for your furnace repair is crucial to ensure quality work, reliability, and long-term peace of mind. At Wenbrooke Services in Leesburg, VA, we aim to deliver excellence in our services while maintaining our reputation for professionalism and customer satisfaction.
Here are the compelling reasons to choose us for your furnace repair needs:
Expertise: Our team is composed of highly skilled and certified technicians with years of experience handling a wide range of furnace repair requirements.
Quality Service: We are committed to delivering top-notch service, ensuring your furnace is repaired correctly the first time.
Customer Satisfaction: Our customer-centric approach means we go above and beyond to meet and exceed our client's expectations. We're happy once you are.
Emergency Services: Understanding the discomfort a faulty furnace can cause, we offer emergency services to resolve your heating problems promptly.
Comprehensive Diagnostics: We don't just treat symptoms. Our comprehensive diagnostics ensure we uncover and address the root cause of the problem.
Fair Pricing: We believe in offering high-quality services at fair and transparent pricing without any hidden costs.
Local Presence: As a local business, we understand the unique needs of Leesburg residents, enabling us to provide personalized services.
Ongoing Maintenance: Beyond repair, we offer maintenance services to keep your furnace running efficiently and prolong its lifespan.
By choosing Wenbrooke Services for your furnace repair in Leesburg, VA, you're not just getting a one-off service but a long-term partner committed to keeping your home comfortable and warm.
FAQs – Furnace Repair In Leesburg, VA
When dealing with furnace repairs in Leesburg, VA, many homeowners have common questions about the process, what it entails, and what to expect. At Wenbrooke Services, we believe in transparency and keeping our customers informed. We have compiled a list of frequently asked questions and our expert answers to help provide clarity and peace of mind when you need furnace repair services:
Q: How do I know if my furnace needs repairs?
A: Signs of needed repair include irregular heating, unusual noises, higher energy bills, or your furnace not turning on.
Q: How often should my furnace be serviced?
A: We recommend annual servicing to ensure optimal performance and catch potential issues before they become significant problems.
Q: Can I perform furnace repairs myself?
A: While homeowners may address minor issues, we strongly advise professional service for most repairs to ensure safety and proper function.
Q: How much will a furnace repair in Leesburg cost?
A: Costs vary based on the nature of the repair. We provide upfront pricing and discuss all charges before beginning work.
Q: How long will the furnace repair in Leesburg take?
A: While simple repairs can be done quickly, complex issues may require more time. Our team aims to complete all repairs promptly and efficiently.
Q: What if my furnace needs to be replaced?
A: If a furnace is beyond repair or a replacement would be more cost-effective, our team can guide you through the selection and installation process.
Q: Do you provide emergency repair services?
A: Yes, we understand that heating problems can occur anytime. We provide emergency services to ensure your home remains comfortable.
We hope these answers address some of your queries. However, if you have more questions or need further assistance, the Wenbrooke Services team in Leesburg, VA, is always ready to help.