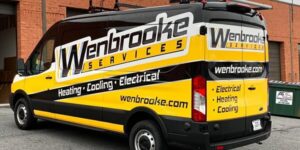 Furnace Installation & Replacement in Leesburg, VA – Wenbrooke Services
Get the most professional furnace installation in Leesburg, VA, from Wenbrooke Services. We provide our customers with the highest quality workmanship and service. Welcome to the Furnace Installation services page of Wenbrooke Heating & Furnace Services in Leesburg, VA.
If you need a new furnace, you can count on our team of experts to provide a seamless installation process, ensuring optimal operation and efficiency of your new heating system. We understand the intricacies of furnace installation, so that you can expect high-quality, professional service every step of the way.
Benefits of Furnace Installation In Leesburg
The decision to install a new furnace is significant, but it comes with several key benefits that can make your home more comfortable and energy-efficient.
Here are some of the reasons why a new furnace installation in Leesburg can be a great choice:
Enhanced Efficiency: Modern furnaces have advanced features that improve their efficiency, which can lead to substantial savings on energy bills.
Better Temperature Regulation: New furnaces offer better and more consistent temperature regulation, ensuring a comfortable environment in your home.
Lower Repair Costs: With a new furnace, you can expect fewer breakdowns and less need for repairs, saving you money and inconvenience over time.
Increased Property Value: Upgrading your furnace can increase your property value, which can be beneficial if you sell your home.
Improved Air Quality: New furnaces often result in improved air quality, which is better for the health of your household.
Do I Need A Heater Replacement?
Have Wenbrooke come out and look your furnace over. We'll let you know if you need some tender, loving maintenance or a minor furnace repair because we specialize in getting more years from aging systems. If it's replacement time, we have your best interest at heart.
Common Signs You Need a Furnace Replacement
Knowing when to replace your furnace can be a challenge. However, at Wenbrooke Services in Leesburg, VA, we're here to make it easier for you. If your furnace shows specific symptoms, it might indicate a replacement is in order.
Familiarizing yourself with these telltale signs can help you proactively address issues, preventing inconvenient breakdowns and ensuring the continued comfort of your home.
However, sure signs may indicate that a furnace replacement is necessary:
Old Age: The average lifespan of a furnace is around 15-20 years. If your furnace is within or past this range, consider a replacement.
Frequent Repairs: If your furnace requires frequent repairs, the cost of continuous fixes might make a replacement more cost-effective.
Rising Energy Bills: If your energy bills are steadily increasing without a change in usage, it may indicate that your furnace is losing efficiency, and a replacement could be necessary.
Inconsistent Heating: If some rooms are warmer than others or your furnace can't maintain a consistent temperature, it may be a sign that your furnace needs to be replaced.
We believe Compassion & Care is everything.
Our fully licensed technicians work with you to find the best options and offer honest, up-front pricing. We hyper-focus on every detail of your furnace installation in Leesburg so it's done right the first time.
We treat your home with the utmost respect.
We give discounts to members of our armed forces.
We guarantee you'll be thrilled with our excellent service.
Here's What To Expect
Once you've chosen your furnace, we'll set a date for installation. On that day, we'll arrive promptly and get right to work. After removing the old equipment, we'll connect the new furnace, test it and explain everything to you in detail. We'll clean up after ourselves and leave you to enjoy your warm, cozy home.
Why Choose Wenbrooke Services for Your Furnace Installation
Choosing the right company for your furnace installations and replacements is crucial. At Wenbrooke Services in Leesburg, VA, we are committed to providing superior service that exceeds your expectations.
Our combination of expert knowledge, high-quality products, and a dedication to customer satisfaction sets us apart in the HVAC industry. We're not just interested in installing or replacing your furnace; we're committed to ensuring you enjoy a comfortable, warm home for many years.
Here are a few reasons why we are a top choice for furnace installation in Leesburg:
Expertise: Our technicians are highly skilled and trained to handle all aspects of furnace installation in Leesburg, ensuring your new furnace is installed correctly and operates at peak efficiency.
Quality Products: We only install furnaces from trusted manufacturers known for their durability, efficiency, and performance.
Transparent Pricing: We provide clear, upfront pricing so you know exactly what to expect—no hidden fees or surprises.
Satisfaction Guarantee: We stand by our work and will rest when you're satisfied with your furnace installation in Leesburg.
Excellent Customer Service: Our team is committed to exceptional customer service. We'll answer all your questions and guide you through the installation process.
Your comfort is our priority. Let Wenbrooke Services help make your home more comfortable and energy-efficient with a professional furnace installation in Leesburg. Contact us today to schedule a consultation.
FAQs- Furnace Installation in Leesburg, VA
Navigating the process of furnace installation in Leesburg can bring up many questions. At Wenbrooke Services in Leesburg, VA, we believe in keeping our customers fully informed and equipped with the knowledge they need to make the best decisions for their homes.
To assist you, we have compiled a list of commonly asked questions and our expert answers regarding furnace installation in Leesburg:
Q1: How do I know if I need a new furnace?
A: Signs can include frequent repairs, rising energy bills, inconsistent heating, and the age of your furnace. If your furnace is 15-20 years old, it might be time for a replacement.
Q2: How long does it take to install a new furnace?
A: While installation times vary, most installations are completed daily.
Q3: How often should I replace my furnace?
A: A furnace should be replaced every 15-20 years. However, this can depend on the specific model and how well it's been maintained.
Q4: How much will a new furnace cost?
A: The cost can vary depending on the furnace's brand, model, and specific features. We provide upfront pricing for transparency and no hidden surprises.
Q5: Can I install the furnace myself?
A: We strongly recommend professional installation to ensure safety and efficiency. A proper installation can lead to issues down the line.
Q6: What brands of furnaces do you install?
A: We install a wide variety of high-quality furnace brands. Our team can help you choose the best fit for your needs and budget.
If you have further questions or need additional information, our dedicated team at Wenbrooke Services in Leesburg, VA, is happy to assist. Contact us today to learn more about our furnace installation in Leesburg, VA.