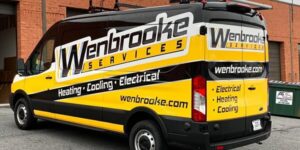 Security Lighting Installation in Leesburg, VA – Wenbrooke Services
Your home or business's safety and security are paramount in an increasingly uncertain world. One crucial step in enhancing your property's security is installing security lighting. Wenbrooke Electrical Services in Leesburg, VA, is a leading provider of security lighting installations dedicated to keeping your spaces well-lit and safe. Our skilled technicians install and maintain various security lighting systems, ensuring optimal visibility and deterrence against potential intruders.
Types of Security Lighting Installation In Leesburg
With today's technological advances, various security lighting options are available for residential and commercial properties. Wenbrooke Services, Leesburg, VA, is well-versed in providing multiple security lighting solutions to suit individual needs and preferences.
Here are the types of security lighting installations we offer:
Motion Sensor Lights: These lights turn on automatically when they detect movement within a specific range, acting as a powerful deterrent against intruders.
Flood Lights: These provide a high-intensity broad-beamed light, ideal for large outdoor spaces such as driveways, backyards, or commercial parking lots.
Solar Security Lights: Harnessing the sun's power, these lights are energy-efficient, cost-effective, and work well in areas with ample sunlight.
LED Security Lights: Known for their longevity and energy efficiency, LED lights are ideal for continuous use.
Dusk to Dawn Lights: Equipped with a photocell, these lights automatically turn on at dusk and off at dawn, ensuring consistent illumination.
Benefits of Security Lighting in Leesburg, VA
As a property owner in Leesburg, VA, you understand the importance of safeguarding your property. This is where the power of security lighting comes into play. Wenbrooke Services is proud to provide expert security lighting solutions to illuminate your property and offer various benefits to enhance your security, safety, and peace of mind. The advantages of security lighting are significant and manifold, from deterring potential intruders to reducing the risk of accidents.
Here are some key benefits of opting for security lighting installation from Wenbrooke Services:
Increased Security: Well-placed security lights deter potential intruders, making your home or business a less attractive target.
Enhanced Safety: By illuminating dark corners and pathways, security lights can prevent accidents and improve visibility.
Energy Efficiency: With our range of LED and solar security lights, you can maintain adequate lighting without worrying about high energy costs.
Increased Property Value: A well-lit property is often seen as more attractive and safer, potentially increasing its value.
Convenience: Features like motion sensors and dusk-to-dawn lights offer convenient, hands-free operation.
Why Choose Wenbrooke Services for Your Security Lighting Installation in Leesburg, VA
When enhancing your property's security with adequate lighting, Wenbrooke Services in Leesburg, VA, stands out as a leading provider. Our commitment to customer satisfaction, comprehensive security solutions, and high-quality products make us an ideal choice for your security lighting installation needs. We bring a team of licensed and experienced electricians who understand the nuances of security lighting, ensuring optimal illumination for your property.
Experienced Professionals: Our licensed electrician team has vast experience installing various types of security lighting.
Quality Products: We use only high-quality, durable lighting fixtures that provide optimal illumination and withstand weather conditions.
Customized Solutions: We understand that every property is unique, so we offer tailored lighting solutions that meet individual needs and preferences.
Exceptional Customer Service: We take pride in responsive, courteous customer service. We're here to answer your questions and ensure your satisfaction.
Comprehensive Services: We provide comprehensive security lighting services From initial consultation and installation to ongoing maintenance and repairs.
With Wenbrooke Services, you can rest easy knowing your security lighting installation in Leesburg is in the hands of professionals committed to ensuring your property's safety and security.
FAQs – Security Lighting Installation in Leesburg, VA
When it comes to security lighting installation, we know that you may have questions. At Wenbrooke Services, we are committed to providing clear and accurate answers to ensure you make well-informed decisions for your property's safety.
Here are some of the most common questions we get about our security lighting installation in Leesburg:
Q1: What type of security lights does Wenbrooke Services install?
A: Wenbrooke Services installs various security lights, including motion sensor lights, flood lights, solar security lights, LED security lights, and dusk-to-dawn lights.
Q2: Can security lighting prevent break-ins?
A: While no measure can guarantee total prevention of break-ins, well-placed security lighting can significantly deter potential intruders by reducing hiding spots and making your property a less attractive target.
Q3: Are there energy-efficient security lighting options?
A: We offer energy-efficient options like LED and solar-powered security lights. These options provide intense illumination while keeping energy consumption low.
Q4: What is the best placement for security lights?
A: The ideal placement of security lights varies depending on the property. Common locations include entrances, walkways, driveways, and other potential access points. Our professionals can consult to determine the best placement for your property.
Q5: Do I need professional installation for security lighting?
A: While some may attempt to install security lighting independently, we highly recommend professional installation. This ensures that your lights are properly placed for optimal illumination and wired correctly for safety.
Q6: What is the lifespan of security lights?
A: The lifespan of security lights can vary depending on the type of light and frequency of use. For example, LED lights are known for their longevity, often lasting several years.
Q7: Do Wenbrooke Services offer maintenance for security lights?
A: Yes, we provide comprehensive services that include routine maintenance and necessary repairs to ensure your security lights continue to function effectively.
Remember, if you have any further questions or are ready to schedule your security lighting installation in Leesburg, VA, the team at Wenbrooke Services is just a call away.