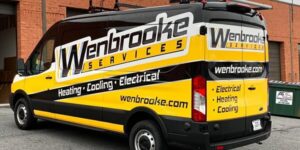 Light Fixture Installation in Leesburg, VA
Get professional light fixture installation in Leesburg, VA, from Wenbrooke Services. Our certified experts can help you find the perfect fixtures for your needs and style. Welcome to Wenbrooke Electrical Services, where we provide expert light fixture installation services in Leesburg, VA. Our trained and experienced professionals are skilled in installing various light fixtures to suit any aesthetic or functional need. We pride ourselves on delivering high-quality workmanship and customer-focused service that exceeds expectations. From simple ceiling lights to intricate chandeliers, we have the expertise to ensure your new fixtures are installed safely and efficiently.
Types of Light Fixtures That Can Be Installed in Leesburg, VA
When it comes to illuminating your home in Leesburg, VA, the choice of light fixtures can significantly impact your space's aesthetics and functionality. At Wenbrooke Services, we provide expert installation for various light fixture types. Whether you're looking to make a bold design statement or improve the lighting in your home, we're here to help.
Here are some of the types of light fixtures we can install:
Ceiling Lights: These are the workhorse of home lighting. Installed in the center of a room, they provide general ambient light. Styles can range from essential dome lights to elaborate chandeliers.
Pendant Lights: These hang from the ceiling, typically over areas that need task lighting, such as kitchen islands or reading nooks. They can also add visual interest or direct light in a specific direction.
Chandeliers: A chandelier is an eye-catching fixture that can add an elegant or dramatic touch to dining rooms, living rooms, and other prominent spaces.
Wall Sconces: Wall sconces are installed on walls and can provide accent lighting, task lighting, or contribute to the overall ambient light. They're great for hallways, bathrooms, or flanking a bed or fireplace.
Recessed Lights: Also known as pot lights or can lights, these fixtures are installed into hollow openings in the ceiling. They provide focused light, making them excellent for task or accent lighting while maintaining a clean, uncluttered look.
Track Lighting: Track lighting is versatile and can illuminate a large area or highlight specific features like artwork or architectural details.
Outdoor Lights: From path lights and wall lanterns to floodlights and landscape lights, we can install various fixtures to enhance your outdoor spaces' safety, usability, and aesthetic appeal.
Whether you're renovating, building, or simply updating your current lighting scheme, Wenbrooke Services has the expertise to provide safe and reliable light fixture installation in Leesburg that aligns with your vision and meets your needs.
Benefits of Light Fixture Installations in Leesburg, VA
Lighting is vital to your home's atmosphere, functionality, and aesthetics. Choosing the right fixtures and having them expertly installed can make a difference. Here at Wenbrooke Services in Leesburg, VA, we understand the transformative power of good lighting.
Below are some of the key benefits you'll enjoy when you invest in professional light fixture installations:
Enhanced Aesthetics: Light fixtures can serve as striking design elements, adding style and sophistication to any room. Whether you prefer a grand chandelier or sleek, modern recessed lights, the right fixture can beautifully complement your decor.
Improved Functionality: Task lighting in the kitchen, ambient lighting in the living room, accent lighting to highlight art pieces — each type of light fixture has a specific purpose. Expert installation ensures each room in your home has the right light to meet your needs.
Increased Property Value: Quality light fixtures, significantly, when part of a well-designed overall lighting plan, can increase the value of your home. This is a significant benefit if you plan to sell your property.
Energy Efficiency: Many modern light fixtures are designed to be energy-efficient, meaning they use less electricity for the same amount of light. This can result in substantial savings on your energy bills over time.
Safety and Security: Well-lit properties deter potential intruders. Installing outdoor light fixtures such as floodlights or motion-sensor lights enhances the safety of your property.
Mood and Well-being: The proper lighting can improve your mood, productivity, and health. For example, bright, cool light can help you focus, while warm, dimmable light is ideal for relaxation.
Customization: With a wide variety of light fixtures available in various styles, sizes, and finishes, you can customize each space in your home to reflect your taste and style.
By choosing Wenbrooke Services for your light fixture installation in Leesburg, VA, you're choosing quality, professionalism, and a company committed to your satisfaction. We'll help you illuminate your home in a way that's beautiful, practical, and uniquely yours.
Why Choose Wenbrooke Services for Your Light Fixture Installation in Leesburg, VA
Regarding light fixture installation in Leesburg, VA, you need a trustworthy service provider. At Wenbrooke Services, we pride ourselves on offering professional, reliable, and efficient services that ensure your home's lighting is exactly as you envision.
Expertise and Experience: Our team of licensed electricians has extensive knowledge and experience installing various light fixtures. We understand the nuances of different fixture types and can handle light fixture installation in Leesburg safely and accurately.
High-Quality Service: We are committed to providing high-quality services that meet and exceed customer expectations. From the initial consultation to the final light fixture installation in Leesburg, we strive to deliver a seamless and satisfactory customer experience.
Wide Range of Options: Whether you're looking for a modern pendant light, a classic chandelier, or energy-efficient recessed lights, we have a wide array of options to suit your style and preferences.
Safety First: Electrical work can be dangerous if not handled properly. We prioritize the security of our customers and our staff. We follow strict safety protocols and guidelines to ensure every light fixture installation in Leesburg is completed safely.
Transparent Pricing: We believe in clear and honest pricing. Before we begin any work, we provide a detailed quote so you know exactly what to expect. There are no hidden fees or surprise charges.
Prompt and Reliable: We value your time. Our team always arrives on schedule and works diligently to complete your installation promptly without compromising quality.
Local Business: As a local business, we understand the specific needs of Leesburg residents. We serve our community and deliver services that enhance the comfort and beauty of your homes.
Excellent Customer Service: Our friendly and professional staff is always ready to answer your questions and address your concerns. We aim to build long-term customer relationships based on trust and satisfaction.
Choose Wenbrooke Services for your light fixture installation in Leesburg and enjoy peace of mind knowing that your project is in capable and experienced hands.
FAQs – Light Fixture Installation In Leesburg, VA
At Wenbrooke Services, we understand that undertaking a light fixture installation in Leesburg, VA, can raise many questions. Our team provides clear and comprehensive answers to help guide your decisions.
Here are some frequently asked questions (FAQs) about light fixture installation in Leesburg:
Q1: Can I install a light fixture myself?
A: While some may choose to do a light fixture installation as a DIY project, it can be complicated and dangerous if not handled correctly. Our professional electricians have the training and expertise to handle electrical work safely and effectively.
Q2: How long does it take to install a light fixture?
A: The time taken to install a light fixture can vary based on the type of fixture and the existing wiring setup. On average, a simple installation may take about an hour, while more complex installations may take several hours. Our team will provide a more accurate time estimate during your initial consultation.
Q3: What types of light fixtures can you install?
A: Wenbrooke Services can install various light fixtures, including ceiling lights, pendant lights, chandeliers, wall sconces, recessed lights, track lighting, and outdoor lighting. Our team will work with you to find the right fixtures for your space.
Q4: Can you replace existing light fixtures?
A: Yes, we can replace existing light fixtures. Our team will safely remove your old fixture and install the new one, ensuring all electrical connections are secure and safe.
Q5: How much does it cost to install a light fixture?
A: The cost of light fixture installation varies based on the type of fixture, the complexity of the light fixture installation in Leesburg, and the condition of your existing wiring. We offer transparent pricing and will provide a detailed quote before starting work.
Q6: Can you help with light fixture selection?
A: Absolutely! Our team can guide you in selecting fixtures that complement your decor, meet your lighting needs, and fit within your budget.
Q7: Do you clean up after installation?
A: Yes, at Wenbrooke Services, we believe in leaving our work area as clean as we found it. We clean up after every job, so you don't have to worry about any mess left behind.
If you have any questions or need more information about our light fixture installation in Leesburg, VA, don't hesitate to reach out. Our team at Wenbrooke Services is here to help.