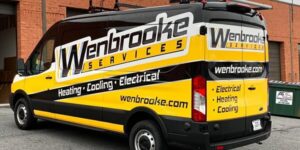 Chandelier Installation in Leesburg, VA – Wenbrooke Services
Whether you want to make a grand statement in your foyer or add elegance to your dining room, a chandelier installation can dramatically enhance the aesthetics of your space. At Wenbrooke Electrical Services in Leesburg, VA, we offer expert chandelier installation services that transform your home's lighting and ensure safety and functionality.
Chandelier Installation Process
The chandelier installation process is a careful procedure that requires professional expertise to ensure safety and functionality. At Wenbrooke Services, we start by conducting an initial consultation to evaluate your space, understand your aesthetic preferences, and assess the weight-bearing capacity of the ceiling. Throughout the process, we strictly adhere to safety standards and regulations. Once installed, we test the chandelier to ensure it functions correctly, providing a beautiful and safe addition to your home.
Our team of licensed electricians at Wenbrooke Services follows a rigorous installation process:
Assessment: We begin by assessing your room and where the chandelier will be installed. This includes checking the strength of the ceiling, determining the height at which the chandelier will hang, and evaluating the existing electrical wiring.
Preparation: Our team will protect your home during the installation, such as laying down drop cloths and ensuring the power is turned off.
Removal of Existing Fixture: If there is an existing fixture where the chandelier will be installed, our team will carefully remove it.
Installation: Next, we mount the new chandelier, ensuring it is secured correctly and at the right height. Our electricians connect the chandelier to the existing wiring, always following safety protocols.
Testing and Cleanup: Finally, we test the chandelier to ensure it is working correctly and then clean up the area, leaving your home as clean as we found it.
Benefits of Chandelier Installation in Leesburg
Chandeliers are more than just lighting fixtures; they are an essential element of home décor that can dramatically transform a space. At Wenbrooke Services in Leesburg, VA, our professional installation ensures you can take full advantage of the many benefits of having a chandelier.
Here are some key advantages chandelier installation in Leesburg:
Aesthetic Enhancement: Chandeliers are renowned for their beauty and elegance. With a myriad of designs and styles available, from vintage to contemporary, a chandelier can significantly enhance the aesthetic appeal of any room.
Focal Point Creation: A chandelier's distinctive designs and radiant light create a stunning focal point in a room, immediately drawing attention and setting the tone for your interior décor.
Versatility: Chandeliers are not limited to grand halls and dining rooms. They can be installed in bedrooms, bathrooms, or even walk-in closets, providing a touch of sophistication wherever they are placed.
Lighting Variety: Many chandeliers feature multiple light sources, allowing varied lighting effects. Whether you desire a bright, well-lit room or prefer a softer ambiance, a chandelier can be adjusted to suit your preference.
Home Value Increase: A professionally installed chandelier can add value to your home, often appealing to potential buyers for their blend of functionality and design.
Customization: With various materials, sizes, and styles, chandeliers can be tailored to your specific design preferences, ensuring a unique addition to your interior space.
Choosing Wenbrooke Services for your chandelier installation in Leesburg ensures a professional, safe, and efficient process, allowing you to enjoy these benefits to their fullest extent.
Why Choose Wenbrooke Services for Chandelier Installation in Leesburg, VA.
Professional service is crucial to ensure safety, functionality, and aesthetic appeal when installing a chandelier. Wenbrooke Services in Leesburg, VA, is a trusted provider of chandelier installation services, and here are several compelling reasons to choose us for your installation needs:
Professional Expertise: Our team of electricians is highly trained and experienced in installing all types and sizes of chandeliers. We understand the intricacies involved in the process, from choosing the correct height and location to ensuring safe and proper wiring.
Exceptional Customer Service: At Wenbrooke Services, we prioritize customer satisfaction. From the initial consultation to the final installation, we aim to provide our clients with a seamless, stress-free experience. Our team is always available to answer any questions and address concerns promptly and professionally.
Safety Assurance: Safety is our top concern. We strictly adhere to all safety standards and regulations during the installation process, providing you peace of mind that your chandelier is safely and securely installed.
Comprehensive Services: We don't just install your chandelier; we also offer advice on positioning, height, and the best style to complement your space. Plus, we're there for your future maintenance or repair needs.
Fair Pricing: We believe in providing high-quality services at reasonable, competitive prices. Our transparent pricing ensures you understand the cost of your installation upfront, with no hidden fees or unexpected expenses.
Choosing Wenbrooke Services for your chandelier installation in Leesburg guarantees professional service, excellent customer care, and an outstanding result that will transform your space.
FAQs – Chandelier Installation In Leesburg, VA
At Wenbrooke Services, we understand that installing a chandelier can come with various questions regarding safety, procedure, and aesthetics. As part of our commitment to customer service, we have compiled a list of frequently asked questions about chandelier installation in Leesburg, VA. We aim to provide you with all the information you need for a seamless installation process.
Q1: Can any ceiling support a chandelier?
A: Not all ceilings can support the weight of a chandelier; significantly heavier models. Our team will assess the strength of your ceiling during the initial consultation and recommend the appropriate chandelier type and installation method.
Q2: How high should my chandelier be hung?
A: The height at which a chandelier should be hung largely depends on the room and the ceiling height. Generally, chandeliers in dining rooms should hang 30-34 inches over the table, while those with tall ceilings may need to be hung higher.
Q3: Can I install a chandelier by myself?
A: We strongly recommend hiring a professional for chandelier installation. The process involves electrical work and safety considerations requiring specialized knowledge and experience.
Q4: How long does chandelier installation take?
A: The duration of installation can vary based on factors such as the chandelier design's complexity, the ceiling's height, and the condition of the existing wiring. We will provide an estimated installation time during our initial consultation.
Q5: Can Wenbrooke Services install chandeliers in any room?
A: Yes, we can install chandeliers in any room of your house where you desire added elegance and enhanced lighting. This includes dining rooms, living rooms, bedrooms, and even bathrooms.
Q6: What if my chandelier needs repairs or maintenance in the future?
A: At Wenbrooke Services, we handle the chandelier installation in Leesburg and provide comprehensive after-service care. If your chandelier requires any repairs or maintenance, you can rely on our team to address your needs.
Remember, if you have any additional questions about chandelier installation in Leesburg, our team at Wenbrooke Services is always here to help.