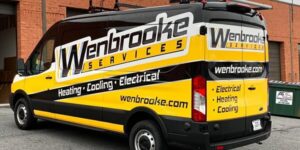 Commercial Electrical Services in Leesburg, VA, by Wenbrooke Services
At Wenbrooke Services, we understand commercial electrical systems' unique challenges and requirements. Offering a wide range of commercial electrical services in Leesburg, VA, our expert electricians are well-equipped to provide businesses with the robust, reliable, and efficient electrical infrastructure they need. Our Electricians in Leesburg deliver top-quality work, ensuring your commercial facility is always powered up and running smoothly.
Our Commercial Electrical Services in Leesburg, VA
Wenbrooke Services in Leesburg, VA, is your trusted partner for all your commercial electrical needs. Our team of skilled electricians provides a comprehensive range of services, including installations, maintenance, repairs, and emergency services. We understand the intricacies of commercial electrical systems and ensure top-quality, reliable solutions tailored to your business needs.
With a focus on safety and efficiency, we help keep your operations running smoothly and securely. Trust Wenbrooke Services for professional and reliable commercial electrical services in Leesburg, VA. To cater to the diverse electrical needs of commercial establishments, we offer a broad array of services, ensuring that every aspect of your electrical system is taken care of:
Commercial Electrical Installations: Our team can expertly install all commercial electrical components, from lighting systems to power outlets and total electrical panels.
Electrical Maintenance and Inspections: Regular maintenance and inspections are essential for the longevity and safety of your commercial electrical systems. Our team performs thorough inspections, identifying potential issues before they escalate and providing maintenance services to keep your system running efficiently.
Commercial Electrical Repairs: We're equipped to handle any electrical repair needs your business might have, from fixing faulty wiring to repairing malfunctioning circuit breakers.
Emergency Electrical Services: We offer emergency electrical services to commercial establishments, ensuring minimal disruption to your operations and safety during an electrical emergency.
Energy-Efficient Lighting Solutions: We install and maintain energy-efficient lighting solutions, helping your business reduce energy costs and environmental impact.
Commercial Electrical Upgrades: As your business grows, so do its electrical needs. Our team can upgrade your electrical system to accommodate your changing needs.
At Wenbrooke Services, we focus on providing professional, reliable, and high-quality commercial electrical services in Leesburg, VA. Trust us to keep your business powered and safe with our comprehensive electrical solutions.
Why Choose Wenbrooke Services for Commercial Electrical Services in Leesburg, VA?
When it comes to maintaining the functionality and safety of your commercial electrical systems, you need a service provider you can trust. Wenbrooke Services is a reliable choice for commercial electrical services in Leesburg, VA.
Here's why we are the go-to choice for businesses across the region:
Industry Expertise: Our team comprises highly trained and experienced electricians who understand the complexities of commercial electrical systems. They stay abreast of the latest industry standards and techniques, ensuring you receive top-quality service.
Wide Range of Services: From installations and upgrades to repairs and maintenance, we offer a comprehensive suite of services tailored to your unique commercial electrical needs.
Rapid Response: We understand that downtime can be costly for businesses. That's why we provide prompt services and swift response times, especially for emergencies, ensuring minimal disruption to your operations.
Safety-First Approach: At Wenbrooke Services, safety is our utmost priority. We adhere to strict safety protocols and guidelines when delivering our services, ensuring the safety of your employees and customers.
Cost-Efficient Solutions: We aim to provide cost-effective solutions that don't compromise quality. From energy-efficient lighting solutions to proactive maintenance, we help businesses save on energy costs and prevent costly repairs.
Excellent Customer Service: We pride ourselves on our excellent customer service. We work closely with our clients, understanding their needs, providing expert advice, and delivering services that exceed their expectations.
Choose Wenbrooke Services for your commercial electrical needs in Leesburg, VA, and experience the difference our commitment to quality, speed, safety, and customer satisfaction can make.