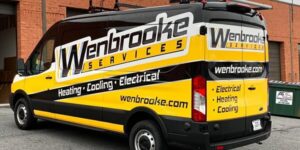 Ductless AC Services in Leesburg, VA – Provided by Wenbrooke Services
If you're seeking superior comfort and energy efficiency in your home cooling solutions, look no further than Wenbrooke Air Conditioning Services ductless AC services in Leesburg, VA. Ductless AC systems, also known as mini-split systems, offer a flexible, efficient solution for cooling your home, and we are the experts you can trust to install, maintain, and repair these systems.
What is a Ductless AC System?
A Ductless Air Conditioning (AC) system, or a mini-split system, is a unique cooling solution designed to efficiently cool individual rooms or spaces in your home without requiring ductwork. It comprises two main components: an outdoor compressor/condenser and an indoor air-handling unit connected by a conduit.
This design allows for flexibility in home cooling, as the units can be installed in any room. Ductless AC systems are known for their energy efficiency, quiet operation, and ability to provide zoned cooling, where you can control the temperature in individual rooms, enhancing comfort and reducing energy consumption.
Top Benefits of Ductless AC Systems
As homeowners look for more efficient and flexible home cooling solutions, Ductless AC Systems emerge as a superior choice. These systems, also known as mini-split systems, offer a plethora of benefits over traditional air conditioning units. From their enhanced energy efficiency and zoned cooling capabilities to their flexible installation options and improved indoor air quality, ductless AC systems provide a comfort solution that is tailor-made for today's varied and individualized living spaces. Ductless AC systems have much to offer when it comes to cooling your home.
Here are some of the critical benefits of choosing our ductless AC services:
Improved Energy Efficiency: Ductless systems use less power than traditional AC systems, saving you money on energy costs.
Flexible Solutions: Ductless AC units can be installed in any room, making them perfect for home additions or areas where ductwork is not feasible.
Improved Indoor Air Quality: With no ducts, there are fewer opportunities for dust, allergens, and bacteria to circulate in your home.
Zoned Cooling: Ductless systems allow you to control the temperature in individual rooms, increasing comfort and efficiency.
Quiet Operation: Ductless AC units operate quietly, ensuring a peaceful home environment.
Proper Installation Matters
Because ductless AC systems look much smaller than your traditional clunker, you should still hire a friendly handyman down the street to install it. The installation is the most crucial day in the life of your ductless system, and you do NOT want permanent damage to your equipment or a voided warranty.
Our fully licensed Wenbrooke technicians will:
Arrive promptly and get right to work
Determine capacity requirements for each zone in your home
I will look for ways to improve efficiency for your specific needs
Help you find the best system
Give you an up-front price
Here's What To Expect
Once you've chosen your ductless AC unit, we'll set a date for installation. Your Wenbrooke installer will arrive promptly and return to work on that day. After installation, we'll test your system and explain everything to you in detail. We'll clean up after ourselves and leave you to enjoy your perfectly-cooled home. We will treat your home with the utmost respect and guarantee you'll be thrilled with our excellent service.
You Can Get A Longer Warranty Too… Our warranties are the best in the business, but we always look for ways to innovate. We've now found a way to offer an even more extended warranty when you ask us to install a Mitsubishi Ductless Unit.
Why Choose Wenbrooke Services for Your Ductless AC Services in Leesburg, VA
Regarding Ductless AC Services in Leesburg, VA, Wenbrooke Services is the leading choice for many homeowners. Our expertise lies in our comprehensive knowledge of ductless AC systems and our unwavering commitment to customer satisfaction.
Our team of seasoned technicians delivers high-quality installation, repair, and maintenance services, ensuring your ductless AC system functions optimally for maximum comfort and energy efficiency. In addition, we pride ourselves on offering transparent pricing, reliable advice, and personalized service tailored to your specific needs.
Regarding ductless AC services in Leesburg, VA, Wenbrooke Services is the name to trust.
Here's why:
Expert Technicians: Our team has the training and experience to handle all ductless AC services, from installation to repair and maintenance.
Quality Service: We are committed to providing top-quality service to ensure your ductless AC system operates at its best.
Reliable Advice: We offer honest, reliable advice on whether a ductless AC system is the right choice for your home and needs.
Customer Satisfaction: Your comfort and satisfaction are our top priorities, and we go the extra mile to ensure you are happy with our services.
Transparent Pricing: With Wenbrooke Services, there are no hidden fees. We provide upfront, transparent pricing for all our Ductless AC services in Leesburg, VA.
Trust Wenbrooke Services for all your ductless AC services in Leesburg, VA. You'll enjoy superior comfort, energy efficiency, and top-tier service with us. Contact us today to schedule an appointment.
FAQs – Ductless AC Services in Leesburg, VA
Ductless AC systems are an efficient and versatile cooling solution, but we understand you might have questions about them. At Wenbrooke Services, we believe in empowering our customers with information. Here are some common FAQs about our ductless AC services in Leesburg, VA:
Q1: What is a ductless AC system?
A: A ductless AC system, or a mini-split system, consists of an outdoor compressor/condenser and one or more indoor air-handling units. A conduit connects them, and the system directly provides cooling to specific areas without requiring ductwork.
Q2: Is a ductless AC system right for my home?
A: Ductless AC systems are a flexible solution suitable for many homes. They're especially ideal for home additions, older homes without existing ductwork, or homes where certain rooms need additional cooling.
Q3: How does a ductless AC system work?
A: The indoor unit of a ductless AC system absorbs heat from your home's air and then transfers it to the outdoor unit, which expels it outside. This process cools down the air in your home.
Q4: How is a ductless AC system installed?
A: Installation involves mounting the indoor unit on an interior wall and connecting it to the outdoor unit through a drilled hole. This allows for the passage of the power cable, refrigerant tubing, suction tubing, and condensate drain.
Q5: How often does a ductless AC system need maintenance?
A: Like traditional AC systems, we recommend servicing your ductless AC system at least once a year to ensure optimal performance and longevity.
Q6: Can Wenbrooke Services handle repairs if my ductless AC system breaks down?
A: Absolutely! Our experienced technicians can handle a wide range of ductless AC system repairs. We also offer emergency services for unexpected breakdowns.
Feel free to contact us at Wenbrooke Services if you have more questions about our ductless AC services in Leesburg, VA. We're here to help.